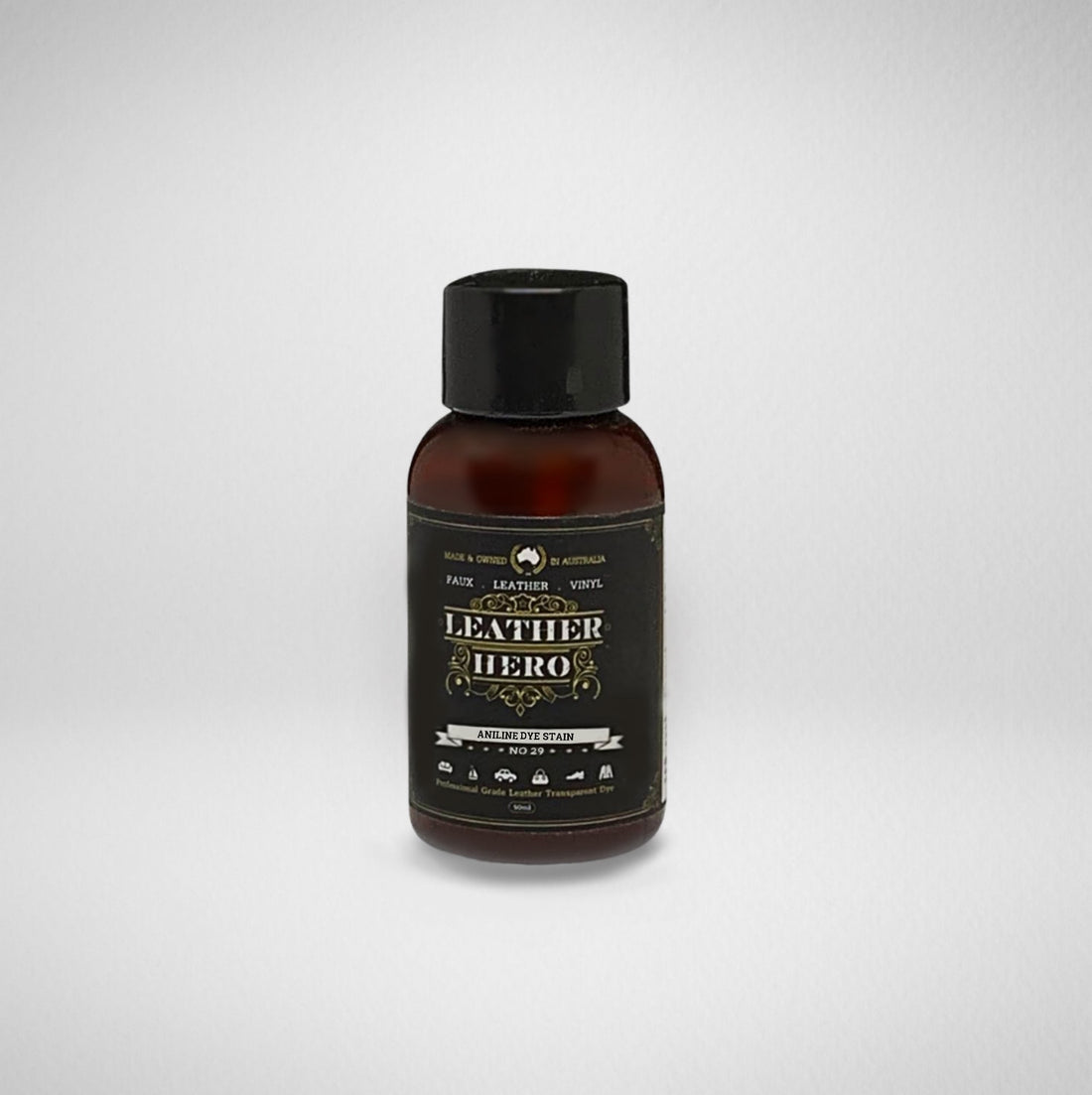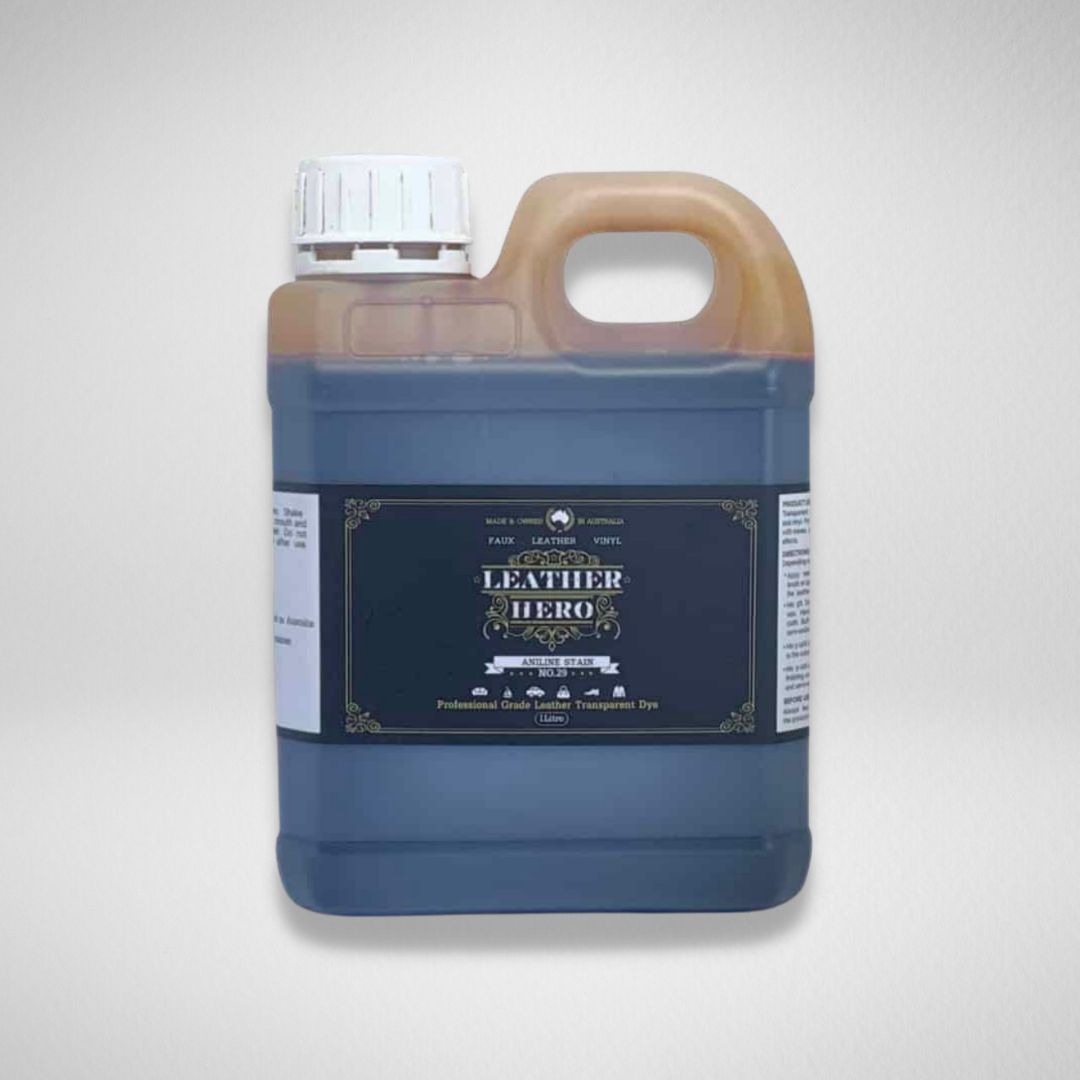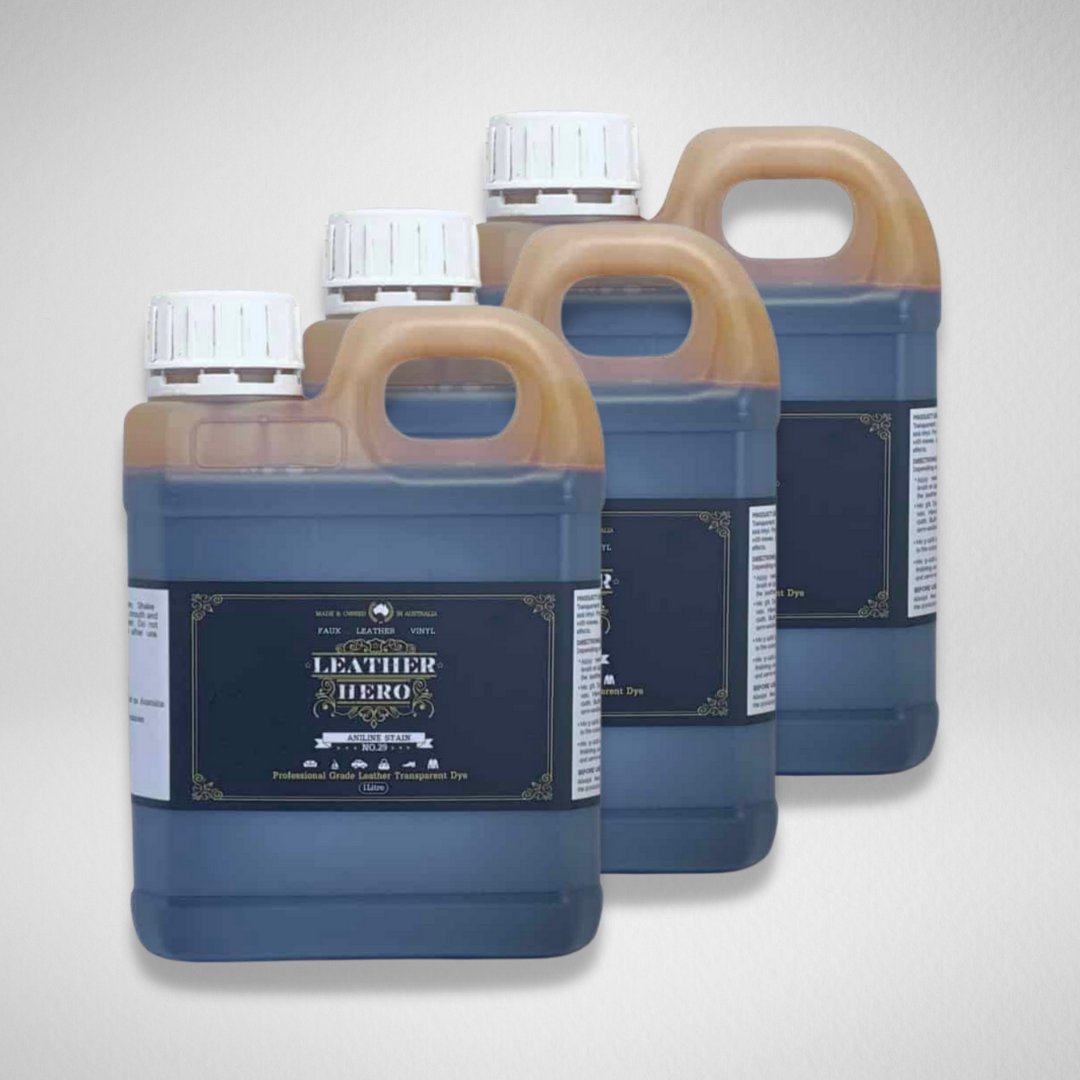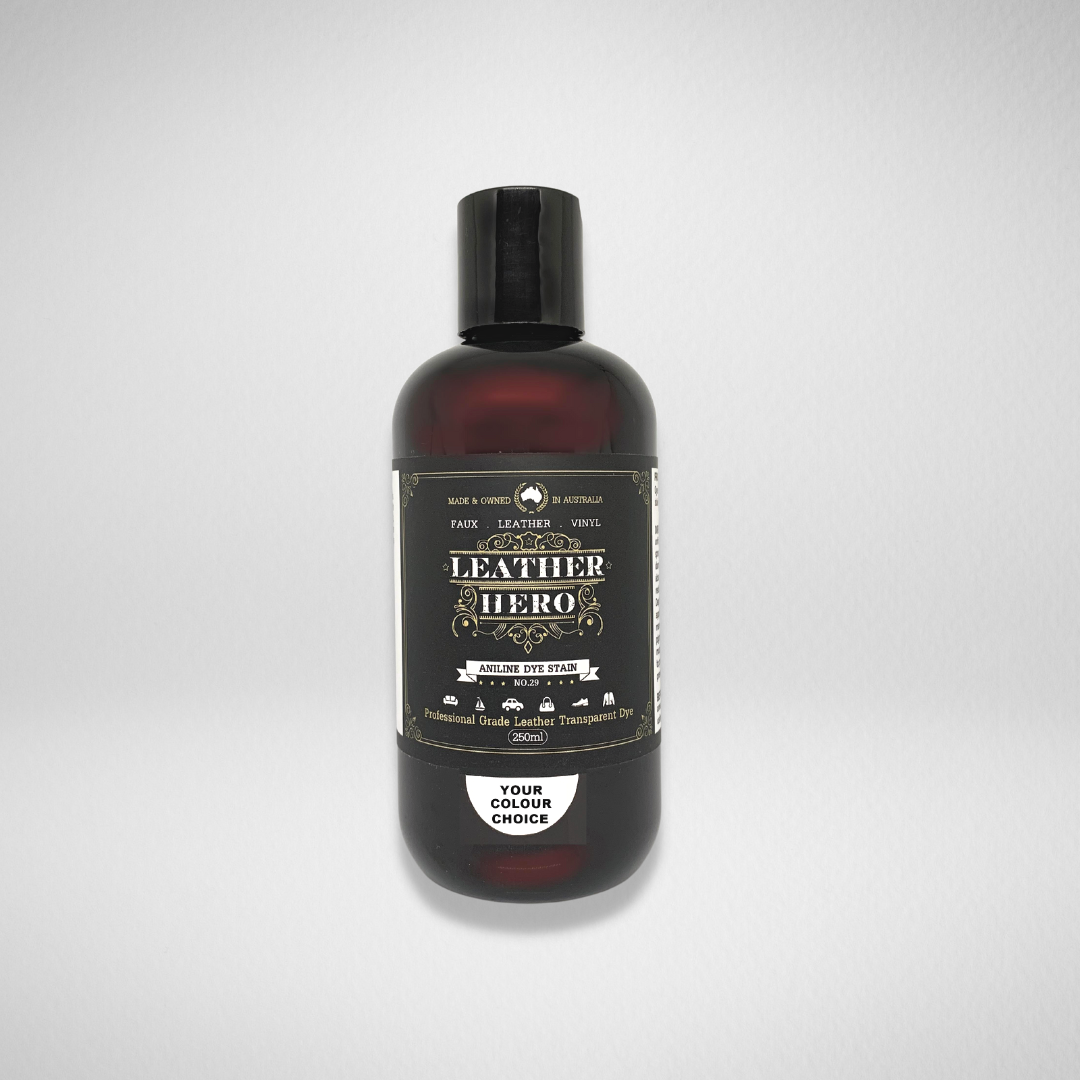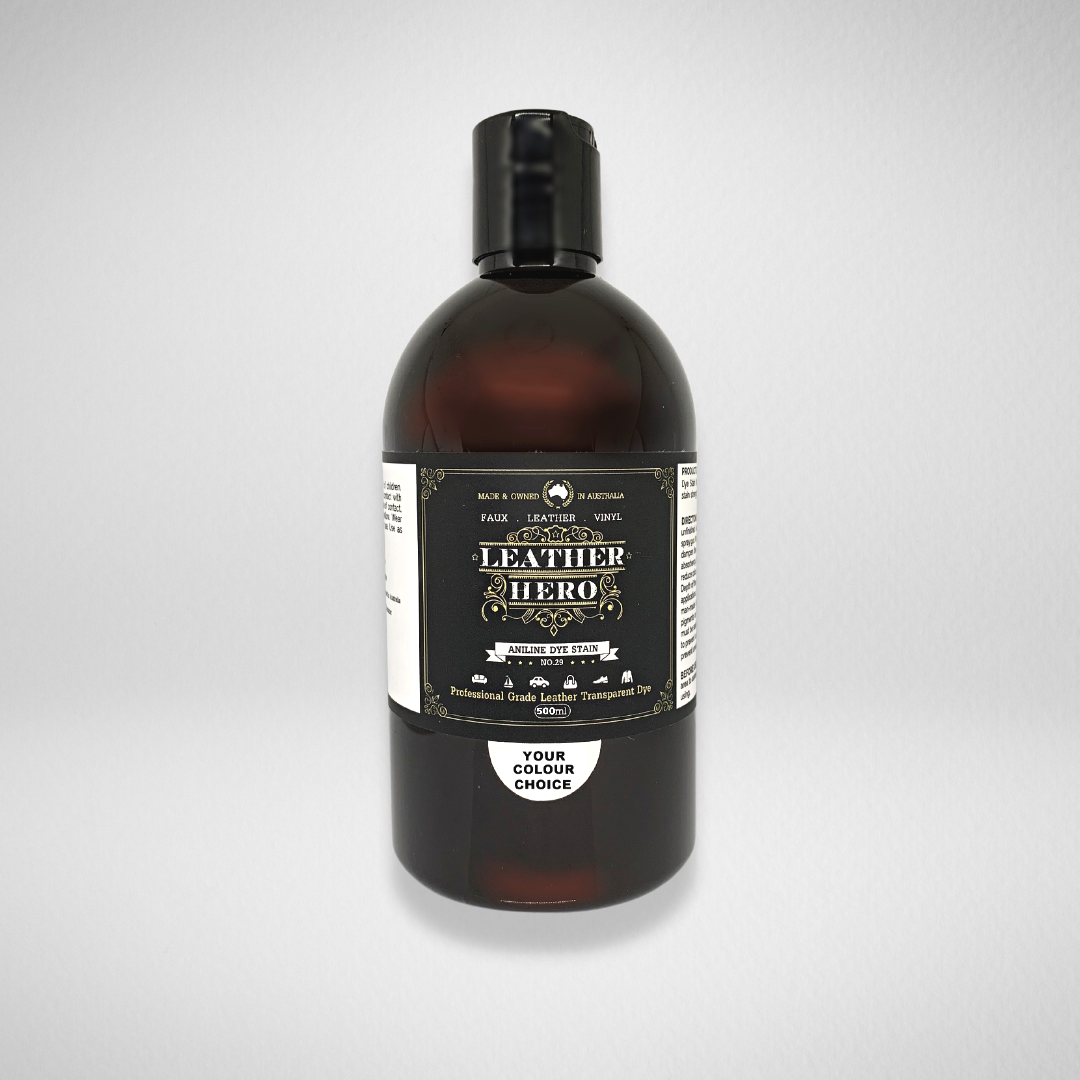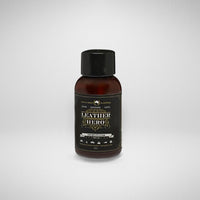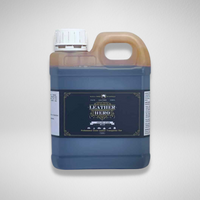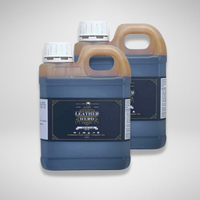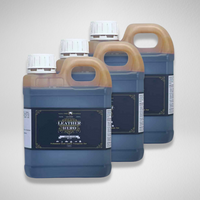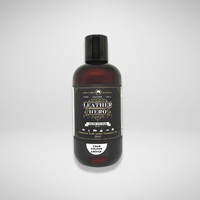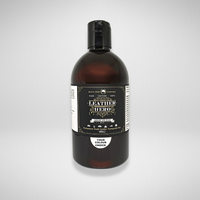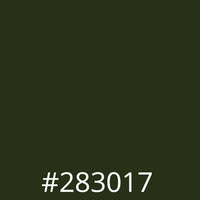 Leather Aniline Dye Stain - Aniline Forest
Aniline Dye Stain (No.29)
Leather dye for staining unfinished leathers.
Formulated for use on aniline, semi-aniline, waxed and oil pull-up leathers
Penetrating, transparent liquid that stains leather with colour
Use a matching colour or one that is slightly darker than the original
Use to restore colour to UV faded areas
Colours are vibrant and luminous and layering increases depth of colour 
Allows the natural features of leather to remain visible
Marks, stains, scuffs and scratches may be somewhat blended but not concealed 

Apply by sponge or spray gun

Air dries in approx. 1hr

Variable absorption can render an appealing mottled effect
Mixable; create your own colour
All dyes can fade when exposed to ongoing UV light
Not suitable for use over repairs using leather filler
Not self-sealing (dye transfer may occur) and leaves no coatings
Generally, not suitable for use over pigmented (painted/coated) leathers 
Not suitable for use on car leather
When you want to keep it natural
The beauty of aniline leather is the warm touch, authentic leather-look and appealing, luminous colours. But when it fades, it can look drab, grey and uncared for. Aniline Dye Stain (No.29) can help to refresh the bleached colour without sacrificing the natural look. 
Use alone or with clear or sheer coatings
Use alone 
Use under Topcoat (No.7) which seals the stain to prevent dye transfer onto clothing/skin and provides a protective finish
Use under Colour Restoration Cream (No.32)  which lightly covers stains and lends a protective finish
Want to know more about the products? Read through the info on this page and the individual product pages then head to the How To library to learn more about choosing your colour and how to use the products. 
Need accessories for your job? Here they are.
Instructions: Print the Directions for Use, Tips and Details  
Aniline Dye Stain is suitable for use on unfinished leathers; aniline, semi-aniline, waxed, oil pull-up leathers.

Generally not suitable for use on pigmented (painted/coated). Not suitable for use on car leather.
50ml: Small touch-ups or 1 x seat cushion top

125ml: 2-3 x standard sofa seats or 2 armrests or 1 hangbag

250ml: 3 x standard seat cushions

500ml: 1 x recliner or 6 x bar stools or 1 x small 2 seater

1L: 1 x 2.5 - 3 seater lounge

2L: 1 x 2.5 - 3 seater lounge plus armchair plus chaise

3L: 1 x large lounge suite

Note: Coverage estimates are approximate. Coverage is affected by a number of variables such as the type and condition of your leather, the amount of coatings on the surface, how dry and porous the leather is and the method of application. Your job may require more or less of one or more kit component.
SUMMARY
1) Clean*
2) Stain
3) Optional: Topcoat*
** Sold separeately and in kits

Detailed Directions
1) Pour some dye on to a sponge and squeeze to incorporate

2) In an inconspicusous place, do a test spot. If the colour matches your needs, continue to Step 3.

If too dark or intense, pour a portion of the Dye Stain into a clean vessel (such as a plastic cup) and dilute with water to create a paler colour. Test again. Continue testing until you achieve the colour intensity you desire. Adjust the remaining Dye Stain as needed.

If the colour is close, but not exactly right for your job, other colours can be used to adjust it. Sold separately.

If the colour is to pale, apply additional coats to the test spot until the depth of colour you need is acheived.

3) Moving at an even speed and applying moderately firm, even pressure, wipe over one area at a time. Experiment with different strokes; eg circular or long, straight strokes. Continue untill all areas are done.

4) Repeat until all areas have been treated.

Note: Due to the penetrating behaviour of Aniline Dye Stain, the fibrous nature of leather, and the variable condition of previous coatings, staining may not produce completely even results. Using several applications can help to even out the colour.
Ideal for: Staining leather with transparent colour.

Use with: Can be used with Spot & Prep (No.4), Topcoat (No.7), Colour Restoration Cream (No.32).

Application schedule: Every piece of leather is different as is the amount and type of usage. Leather dye stain can easily be touched-up if or as needed.

Application method: Apply by hand using a sponge or brush or use a spray gun and compressor

Best accessories: A soft bristle scrubbing brush, applicator sponges, gloves, sandpaper, drop-sheets, and plenty of disposable and/or white microfibre cloths.

Instructions: On the label, Directions for Use, under the How To tab.

Drying time: Pentrates immediately and usually takes 30 mins to 1 hour to dry. A hairdryer can be used to speed drying.

Time before use: Allow 1 hour then test for colour transfer using a white cloth. If colour is transferred, allow more drying time. If dyes continues to transfer, seal with Topcoat (No.7)

Available in a kit: Yes, this product is available in a value kit with the other products used to refinish leather.

Tips:

Use all resources provided to get the most out of your purchase

Success starts with a well prepared surface

When cleaning, work quickly and use a brush to agitate into the grain and use firm pressure when cleaning

Aniline Dye Stains are mixable so your colour can be adjusted as needed

Can be recoated to build depth of colour as needed

Test before use: Always test products in an inconspicuous area first.

Storage: Lid on tight and away from direct UV light and heat (in a cool dark cupboard). Avoid contaminating the contents with baterial sources including skin.
Transparent stain
Unlike leather pigments (paints/coatings) that coat the surface with a coloured finish, aniline dye stains penetrate and stain with transparent colour.
Although painted leathers are the most commonly used type, aniline dyed leathers remain very popular. The look is classic, natural, earthy and authentic whilst the feel is warm and inviting.
Most modern anilines are acturally semi-anilines. They are dyed and lightly coated with leather paint and topcoat for protection.
When to use dye stains
If you have aniline, semi-aniline, waxed, or oil pull-up leather and it has UV fading, Aniline Dye Stain can be used to balance the fading and boost the overall colour intensity.
If it is marked and stained and you'd like to blend those stains so that they are less eye catching, using Aniline Dye Stain in a similar or slightly darker colour can be the answer.
For more stain coverage and a beautiful finish, our Aniline Restoration Kit includes Aniline Dye Stain and can deliver a stunning make-over.