The difference between Leather Dyes, Stains and Paints
There are 2 main leather colourants:
- Leather dyes (concentrate) and stains (ready to use). Look for Leather Hero's Aniline Dye Stain (No.29)
- Leather paints. Look for Leather Hero's Colour (No.6)
What's in a name?
There's not one leather nor one leather finish. Like all industries, the world of leather has its own vocabulary and terminology. Sometimes those terms become homogenised. When it comes shopping for DIY products, there's one common misnomer to understand and avoid.
The word 'dye' is often incorrectly used as a catch-all for leather colourants and methods of all types. In fact, dyes are one type of colourant and they are suitable for restoring some but not all leather types.
For example, you would rarely use dye on car seats; you would use paints, otherwise known as 'pigments'. Leather paints are often marketed as dyes and that's not really a big deal so long as you end up with the right product for your job.
Know your leather colourant
When it comes to repairing or restoring leather, it's important to know what type of leather you have, or, more accurately, what type of colourant was used to finish your leather when it was made. How your leather was finished (in a way, you can think of this as 'dressed and decorated') as well as your objectives, will determine which repair and recolour system is right for your job.
Aniline Dye Stain on aniline leather; colour 'Aniline Ember'
Leather paint on aniline leather colour 'aniline ember'
DYES & STAINS
Also referred to as 'aniline'
Liquid consistency, penetrating into leather
Cannot be removed or lightened, and makes the colour darker. Colour stains the base/existing colour.
Not self-sealing, they can (but don't always) transfer onto skin and clothing unless sealed with a topcoat
Can be used alone although thorough cleaning with Spot & Prep (No.4) and sealing with Topcoat (No.7) is usually recommended. Can also be used as part of a more complete restoration system; see Aniline Restoration Kit
Dyes are transparent and this allows the natural characteristics of leather to show. It also means that they cannot cover or conceal stains and repairs (leather filler)
No surface coatings means that the luxurious warm feel remains unchanged. It also means that the leather is 'unprotected' and can stain easily and permanently
Somewhat less light fast (although Leather Hero dyes last for years)
Used to colour aniline, semi-aniline, nubuck, suede, waxed and oil-pull-up leathers. Semi-aniline leathers also have some light coatings of leather paint and topcoat
Colour goes throughout the leather and is the same on the front and rear side
A limited range of colours. Shades of brown and tan are most commonly used on furnishings. Dyes don't come in shades of white or pastels
Dyes are concentrated whilst stains are ready to use
Not highly suitable for use on painted leathers. Pale coloured leathers can be stained but this is not a conventional approach
Can be applied by sponge or spray gun
With age, dyed leathers typically fade, display stains from spills and oils from hair and skin. The leather can become dry and cracked.
No coatings means they can't wear, crack and delaminate (with the exception of semi-anilines leathers which have light coatings).
Can be re-stained and finished with clear topcoat. The Aniline Restoration Kit is a hybrid system designed to address the typical needs of older aniline leathers. It includes dyes and paints. Oil stains and other imperfections may still be evident due to the transparent nature of dyes. Surface and tear repairs can be made using filler but must be concealed using leather paints. If the repairs are large or numerous, this can mean refinishing the entire piece with leather paint as it can be difficult to make spot repairs blend well when using paints (opaque) on dyed leather and leather filler is not suitable for use directly under dyes.
Non-toxic (use as directed)
LEATHER PAINTs
Also known as 'Pigments' 
Low viscosity flexible coatings that remains on the surface (do not penetrate) into leather
Cannot be fully removed but can be coloured over with any colour (multiple coats). Colour can override and conceal the base/existing colour.
Self-sealing, does not rub off or transfer onto clothing or skin.
Can be used alone although using a complete refinishing system is recommended for maximum durability; see Repair & Recolour Kit
Colour is opaque (with multiple coats). It covers the natural features of leather with a film of solid colour. Artistic effects are possible. Stains, repairs and imperfections can be completely concealed. Coatings are protective and water repelling. Soiling is mostly on the surface and can be removed with cleaning. Coatings can absorb some stains or general discolouration over time.
Feels cooler and coated to touch
UV stable
Used to colour pigmented leathers such as car leather and all white, pastel and most other coloured leathers (excluding the natural tan look)
Colour is on the surface. The rear side may be blue-grey, grey, light brown or dyed. If the rear side is black, it may have absorbed a lot of oil. Such areas have reduced repairability
A broad range of mixable colours
Ready to use
Can be applied over dyed leather. When colouring over fresh dyes, use the same colour as there may some bleeding of dye into the paint
Can be applied by sponge or spray gun
Can wear, crack and delaminate with age or in the absence of a regular care regime
Can give years of durability. Many factors impact durability; the type, quality, and condition of the leather, the application of the products, the amount and type of use and care, all affect durability.
Repairable; coatings can be repaired and reapplied using the Repair & Recolour Kit.
Non-toxic (use as directed)
Leather paint and Man-made leathers
There are many versions of man-made leather. Many are not highly repairable and any repairs can have reduced durability. Although our leather paint typically sticks to man-made leathers, the plastic, brittle or rubberised nature of faux materials means that the bond between the paint and the surface can be less than optimal. Depending on the amount of use the material receives, the overall longevity of the colour work may be anywhere from short to long term.
Older, expired or compromised man-made leathers make for an unstable substrate. Peeling, flaking, cracking and crumbling may continue to occur despite repair and recolouring work. As the faux material breaks down or delaminates, the unstable, flaking material may disrupt the new coatings.
Leather Dyes and Man-made leathers
Aniline Dye Stain (No.29) can be used to stain or tint some faux materials. Use a colour that is similar or darker (you cannot go lighter with dyes). Some faux materials are more porous than others. This means that some will take in colour more readily than others. Dyes can be mixed, layered and diluted. Experiment in a test area to find the best colour, potency and number of applications for your job.
Featured product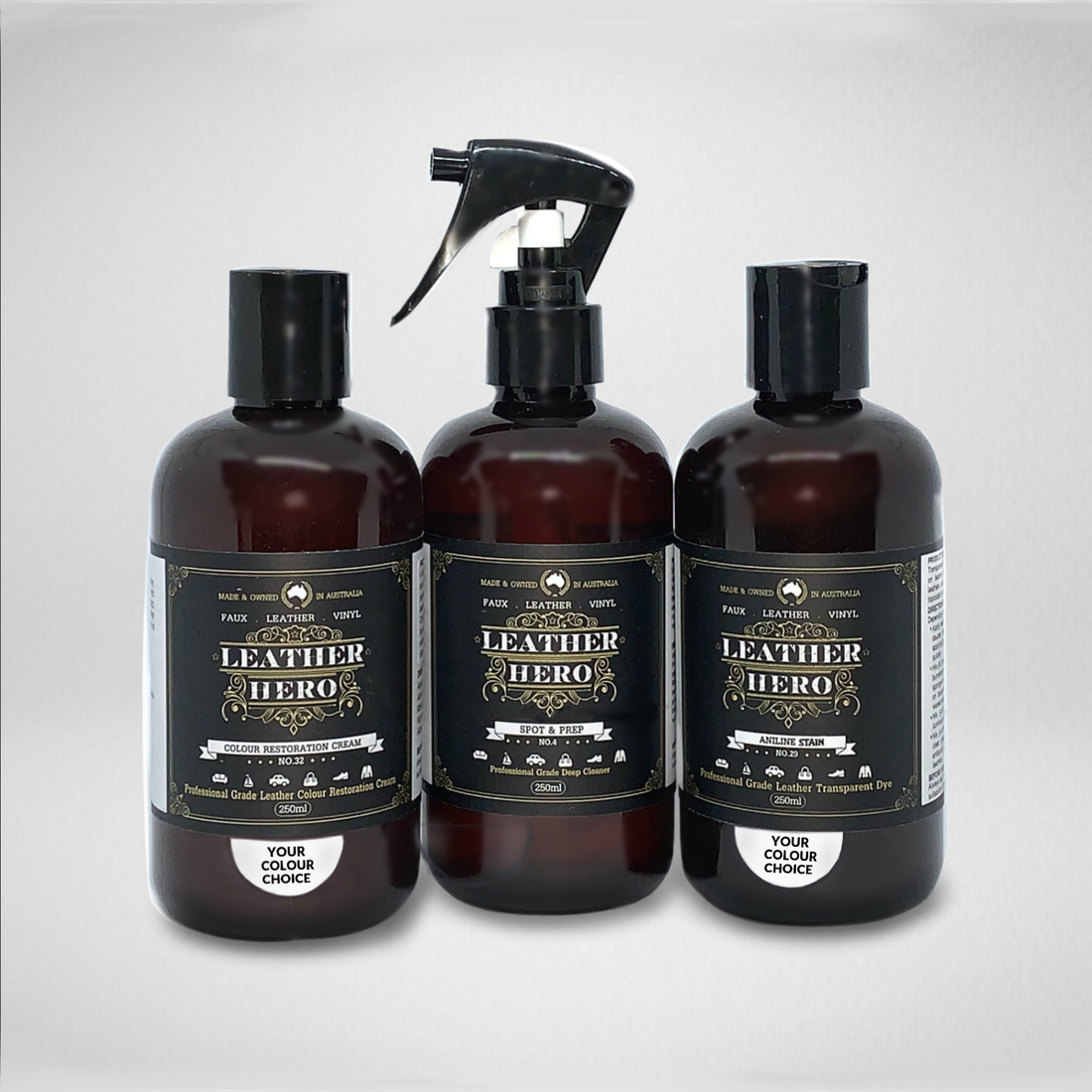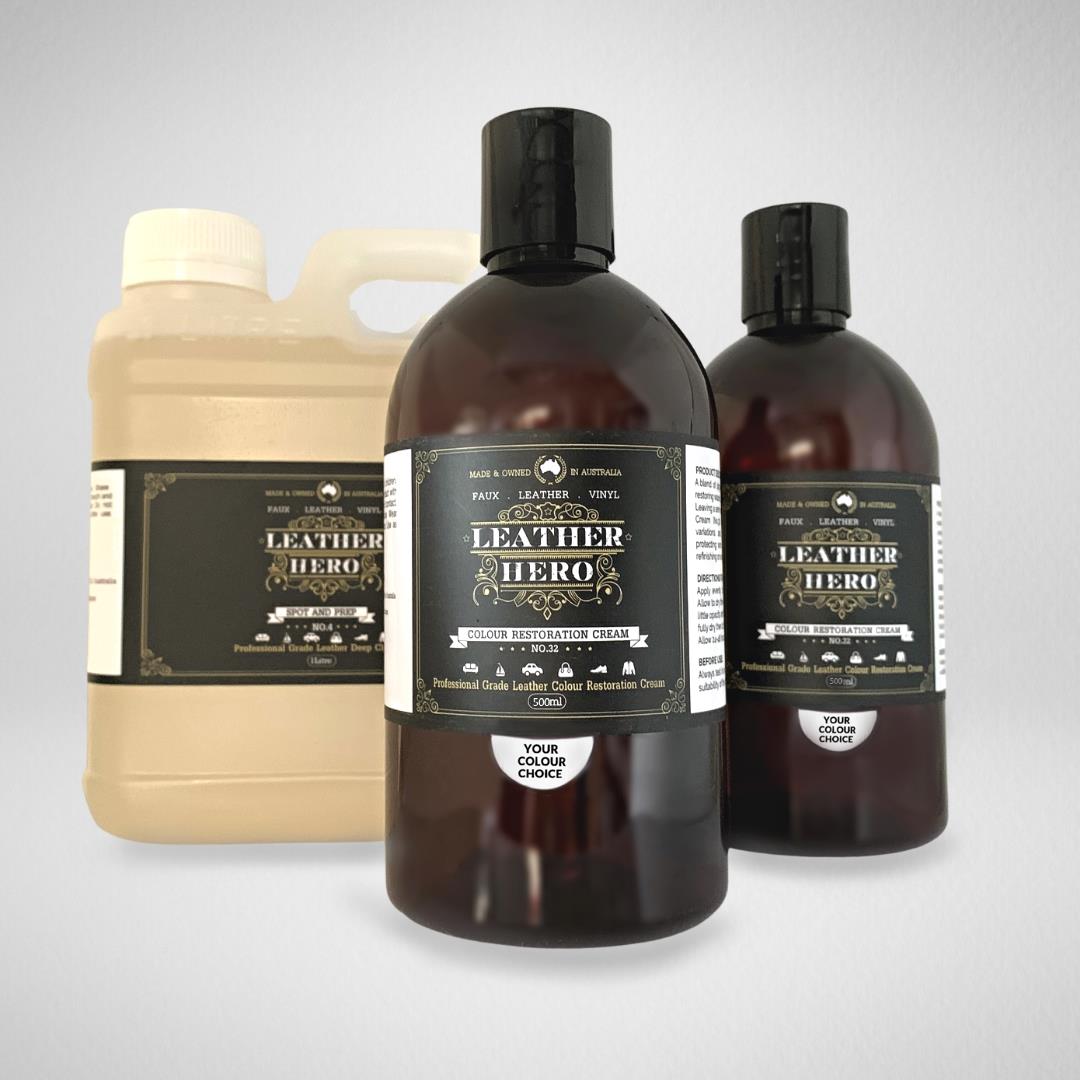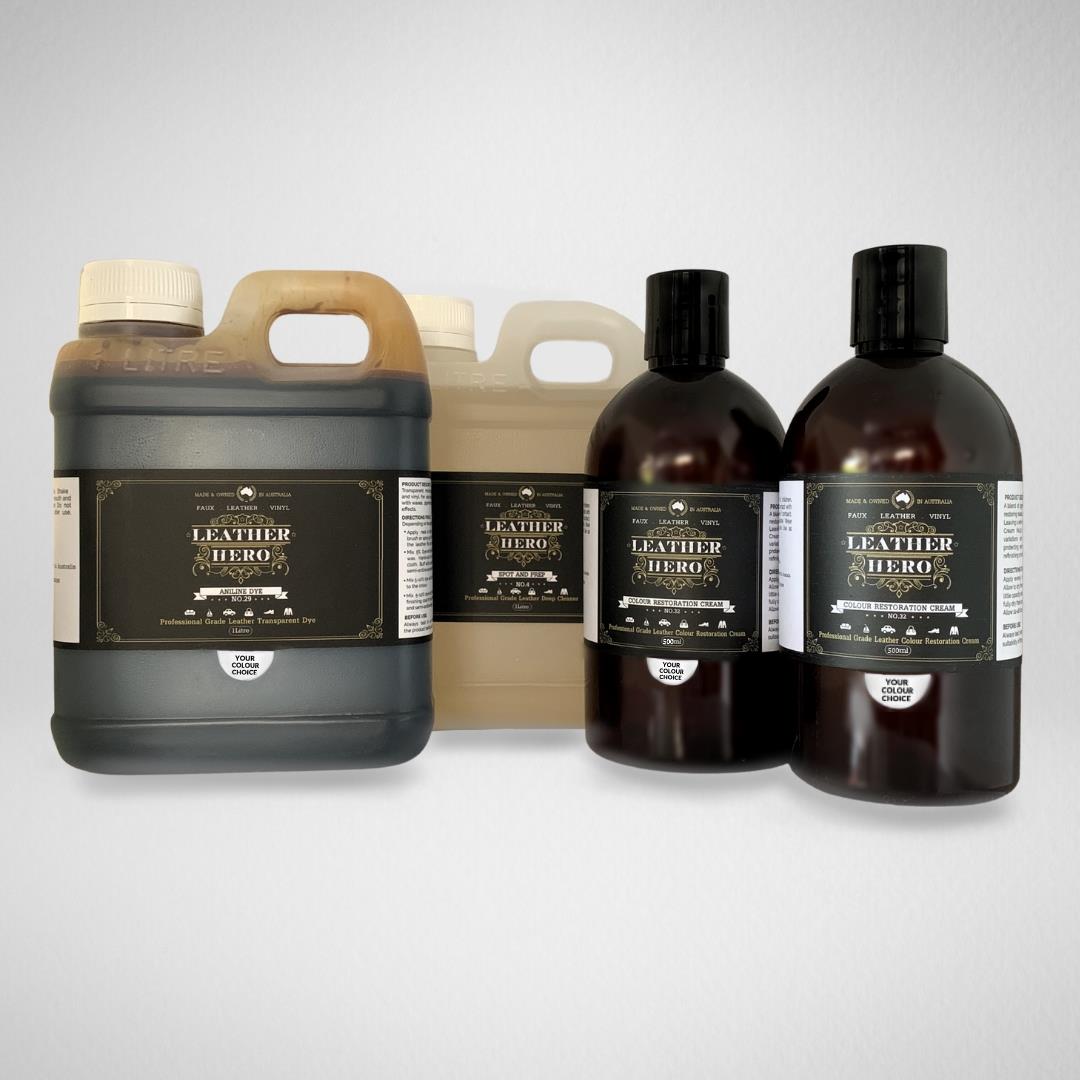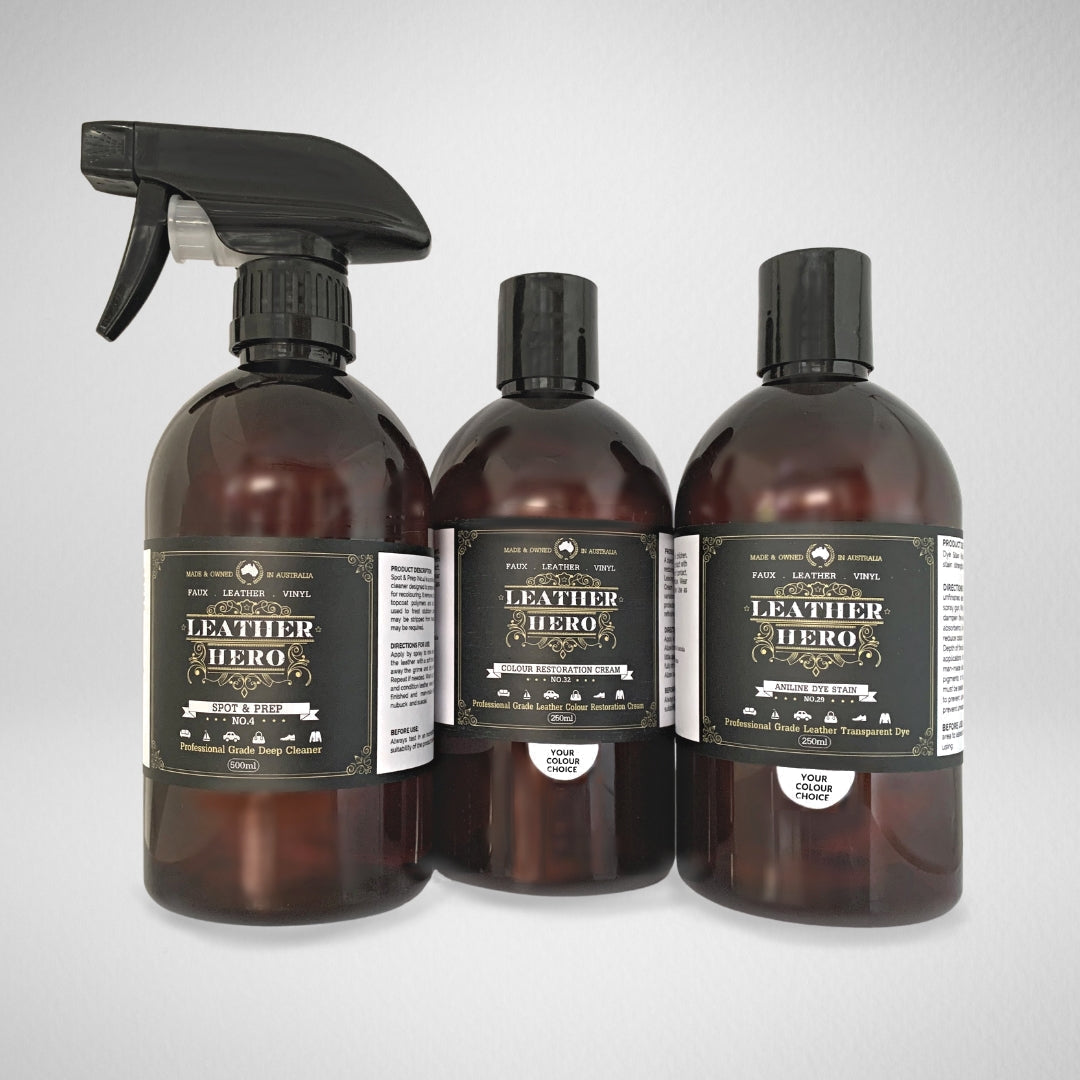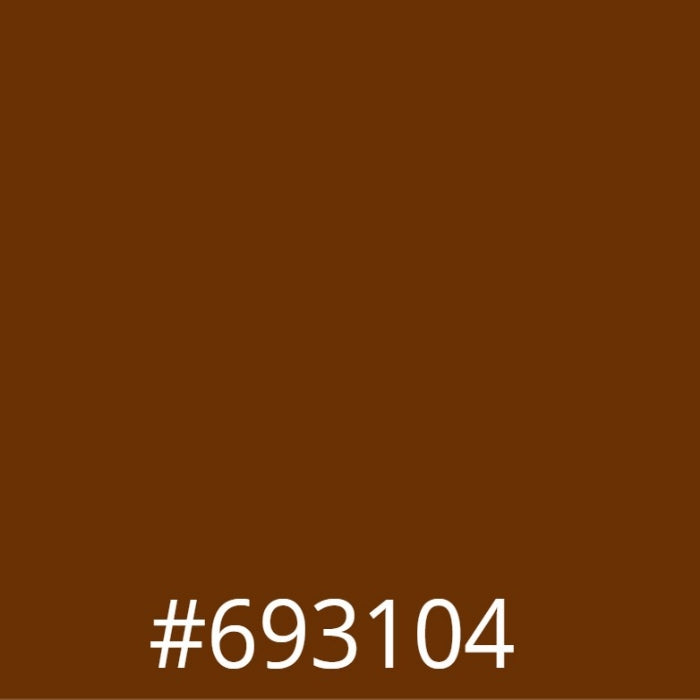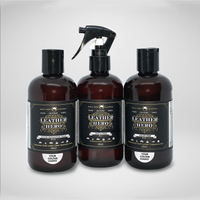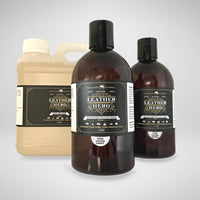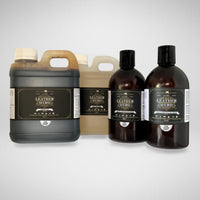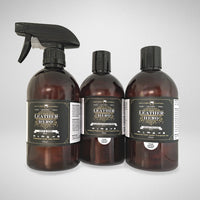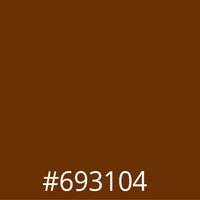 Aniline Restoration Kit - Aniline Cognac
Aniline Restoration Kit
Designed with aniline sofas in mind, this kit boosts and balances faded colour, subtly blends the appearance of stains and leaves a pleasing semi-aniline-like finish on the surface. This clever Australian-made finishing system lets you press the reset button on your aged aniline leather. 

Sheer coverage allows the natural features of leather remain visible

Marks, stains, scuffs and scratches are lightly concealed

Flexible coating with excellent adhesion properties
Layering creates great depth of colour and vibrance


The satin finish looks and feels refreshed and won't rub off onto clothing

Air dries in approx. 1hr

Apply by sponge

Use a matching colour or one that is slightly darker than the original

Easy to use, all-in-one wipe on colour refresher

Ideal for same or similar colour restorations 
Unifies colour, refreshes worn coatings, and looks clean and fresh
Not suitable for use over leather filler
Water-based, fast drying, Australian made and used by professionals
3 simple steps 
Restoring aniline leathers requires a balancing act. Typically, older aniline sofas display a combination of UV fading, stains, and coatings wear and tear. Our formulations have been developed to deliver a balance on all priorities:
First, surface prep removes surface soiling, open the pours for maximum adhesion of coatings and can help to minimise stains

Next, Dye Stain penetrates, boosts and balances the overall colour of the leather

Lastly, Colour Restoration Cream contributes a semi-opaque, self-sealing coating that lightly conceals marks, unifies colour and leaves a beautiful, protective finish on the surface
No special equipment

Do it yourself and save money. This kit assembles the products used by professionals to restore aniline leathers. No special equipment is required and, after protecting your floors, you can work on your furniture right where it is. It can also be used to restore handbags and apparel.
Extra durability

For maximise durability of coatings, 2 coats of clear topcoat can be applied. Satin finish is ideal for this. 
Colour & sheen

Choose from 13 popular colours. Sample Pots are great for colour testing. They contain leather paint which is a different product but the colours are the same. 
The finish (sheen or shine level) is satin. If you'd like a flatter finish, add Dulling Agent (No.30) to the Colour Restoration Cream (No.32). If you'd like a shinier finish, add Topcoat Gloss or High Gloss then apply a couple of coats over your colour work. Sold separately.
Want to know more about the products? Read through the info on this page and the individual product pages then head to the How To library to learn more about choosing your colour and how to use the products. 
Need accessories for your job? Here they are.
Want to see what other customers have done with this kit? Head to the Customer Before & After gallery. 
Instructions: Print the Directions for Use, Tips and Details  
This content type will accept rich text to help with adding styles and links to additional pages or content. Use this to add supplementary information to help your buyers.
You can use product metafields to assign content to this tab that is unique to an individual product. Use tabs to highlight unique features, sizing information, or other sales information.