How to use leather filler
Leather Hero leather filler (Fill No.14) is a flexible, sandable, water-based, air-drying compound with excellent adhesion properties for filling surface imperfections in leather. It has a white base and comes in a variety of colours. It is designed to be used under leather paint to create discreet repairs and surface corrections. It is suitable for use under opaque finishes (leather paint) and generally unsuitable for use under transparent finishes (leather dyes).
- Cosmetic filling of scratches, scuffs, pits and troughs
- Fill remaining gaps after gluing or stitching rips back together
- Skim coat delaminated areas
- Can be stippled to mimic leather grain
- Can be tinted with leather dye or paint to create coloured filler
2 - 6 steps
Good surface prep is an important part of successful results, including filled repairs.
1) Clean the leather surface with Spot & Prep (No.4)
2) Glue closed any loose tags or open tears with Glue (No.16) and allow drying.
3) Sand the area using a 400-800 grit sandpaper.
4) Load some filler onto the back of a palette knife then drag the knife on a 20-45 degree angle across the repair area, pressing firmly and evenly so that a neat, thin layer of filler is deposited.
5) Allow drying then sand as needed. Continue applying filler in thin layers until the desired effect is acheived. Use a stippling technique if a textured finish is required.
6) Sand to smooth.
Repeat until the desired surface correction has been achieved.
Optional
Bind the surface first: Apply leather Binder (No.33) before applying Fill (No.14) to stabilise loose, flaking, open and porous leather. Once dry, Binder can be sanded, helping to seal and smooth a rough and unstable surface before filling.
Prime before filling: Prime (No.5) can be applied before and after filler to maximise adhesion.
Tint to create coloured fill: Mix around 10% Leather Paint into white filler to create coloured filler.
Stipple to mimic grain: For your last 1-2 coats of filler, use a dabbing motion to create a textured effect that mimics leather grain. When cured, sand lightly to soften sharp peaks and render soft mounds.
Insert a sub-patch: When repairing rips and tears, try inserting a sub-patch for extra reinforcement. Glue the patch behind the tear. When the glue has cured, fill any remaining gaps with leather filler. Use a palette knife or similar to flatten the patch so that it lies flat under the leather. Suitable sub-patch materials include leather, vinyl, mesh, interfacing, silk, calico or other fabrics
Whether you are repairing a single scratch, scuff, small tear or a large area of delamination (flaking coatings) use this method to repair the surface damage before recolouring.
method
Clean the surface
Clean with Spot & Prep (No.4) to remove soiling and other contaminants from the surface. Scrub with a scrubbing brush and wipe clean with a microfibre cloth.
Sand
Sand to remove any loose coatings, smooth rough edges and key the surface for optimal adhesion. It is not necessary to remove the original coatings completely.
Optional: Apply Binder
Optional: Apply leather Binder to the affected areas. This helps to seal the surface. When dry, it can be sanded to smooth surface irregularities.
Optional: Tint the filler colour
Optional: Mix around 10% leather paint into white leather filler to create a tinted filler. It will be a paler shade of your leather paint colour.
Coloured filler
Coloured filler can be quicker and easier to cover than white filler. Mix on the back of your gloved hand, or on an old plate, piece of perspex or a plastic surface.
Draw across the surface
Load some filler onto a palette knife. Position the knife on a 45 degree angle or less with the filler between the leather and knife. For broad areas, a sponge can be used to apply filler.
Less is more
Hold the knife flat against the leather and drag it across the surface using even pressure. Repeat until the treatment area has been coated with a thin skim coat. Allow drying or force dry with a hair dryer.
Repeat as needed
Continue to lay in thin coats until you are statisfied with the effect. Each layer must be dry before the next is applied. When doing extensive filling, allow a day or more drying time. Sand with 600-800 grit paper to smooth as needed. An electric palm sander can be used in some cases with care.
REfinish
When all filling is done and cured, refinish with a Repair & Recolour Kit (Prime, Colour and Topcoat).
Tips & troubleshooting
Tips & troubleshooting
- Leather filler is not designed for rebuilding missing leather. Using a patch then filling to cosmetically improve the joins is preferable to attempting to lay in large, deep areas of filler.
- Oil repels adhesion. In leather it prevents coatings and compounds from forming a bond. If your leather is very oily, it may appear dark in colour and soggy or spongey to touch.
- Filler that it applied too thickly, may not cure. Thin layers are recommended.
- Filler that is not dry, doesn't sand well. Allow full curing. This can be anywhere from 30 mins to a few days depending on environmental factors, the nature of your job and how much filler has been applied. .
- Repaired area looks smooth. This is normal where a lot of filler has been used or where the grain is coarse. Try stippling to mimic leather grain if needed.
- Repaired area feels a little stiffer than the surrounding leather. This can happen. Repairs may relax as the leather flexes with use.
- Tears in load bearing areas such as seat cushions. Filler has good adhesion and tensile strength. It can hold and conceal small joins and cosmetic corrections in non-load bearing areas indefinately. When it comes to torn, cut or ripped leather that carries human weight, foundational repair work is needed before cosmetic filling is done. First insert a sub-patch, then stitch the tear back together. Apply glue behind, between and over the join. Allow to cure. Use filler to cosmetically conceal the repair.
- The type, quality and condition of the leather impacts repair results. The better the substrate, the higher the chance of a good repair. Where the leather is thin, weak and fragile, repairs are more challenging and may have reduced durability.
dramatic improvement
When it comes to repairs, perfection occurs now and then. Usually, however, it's best to aim for a very satisfying dramatic improvement.
Featured product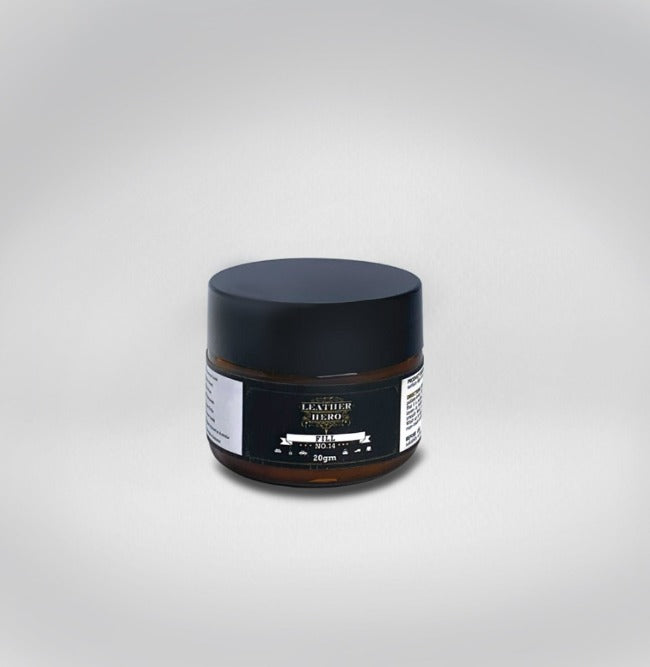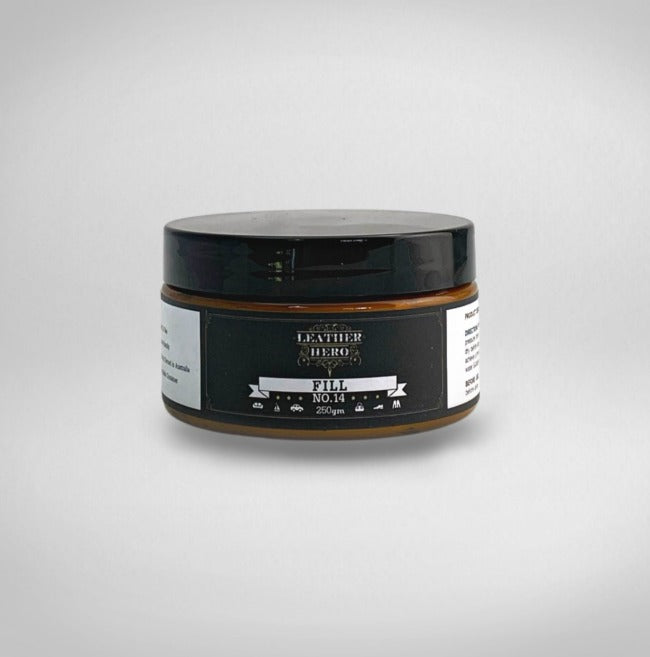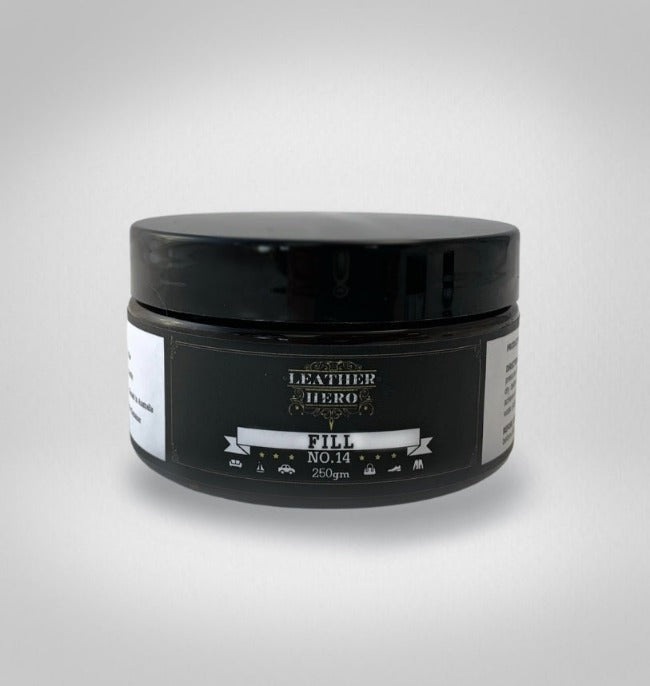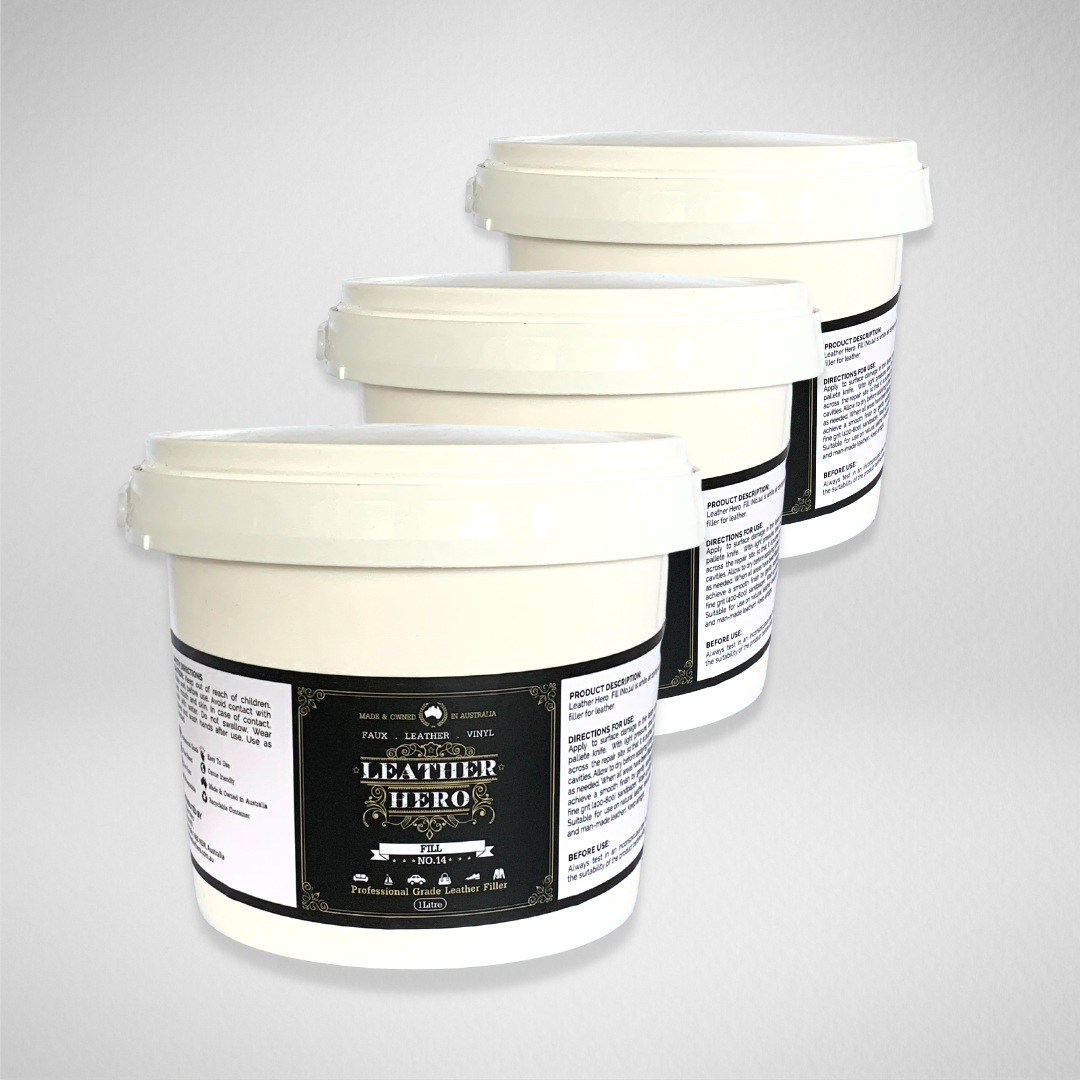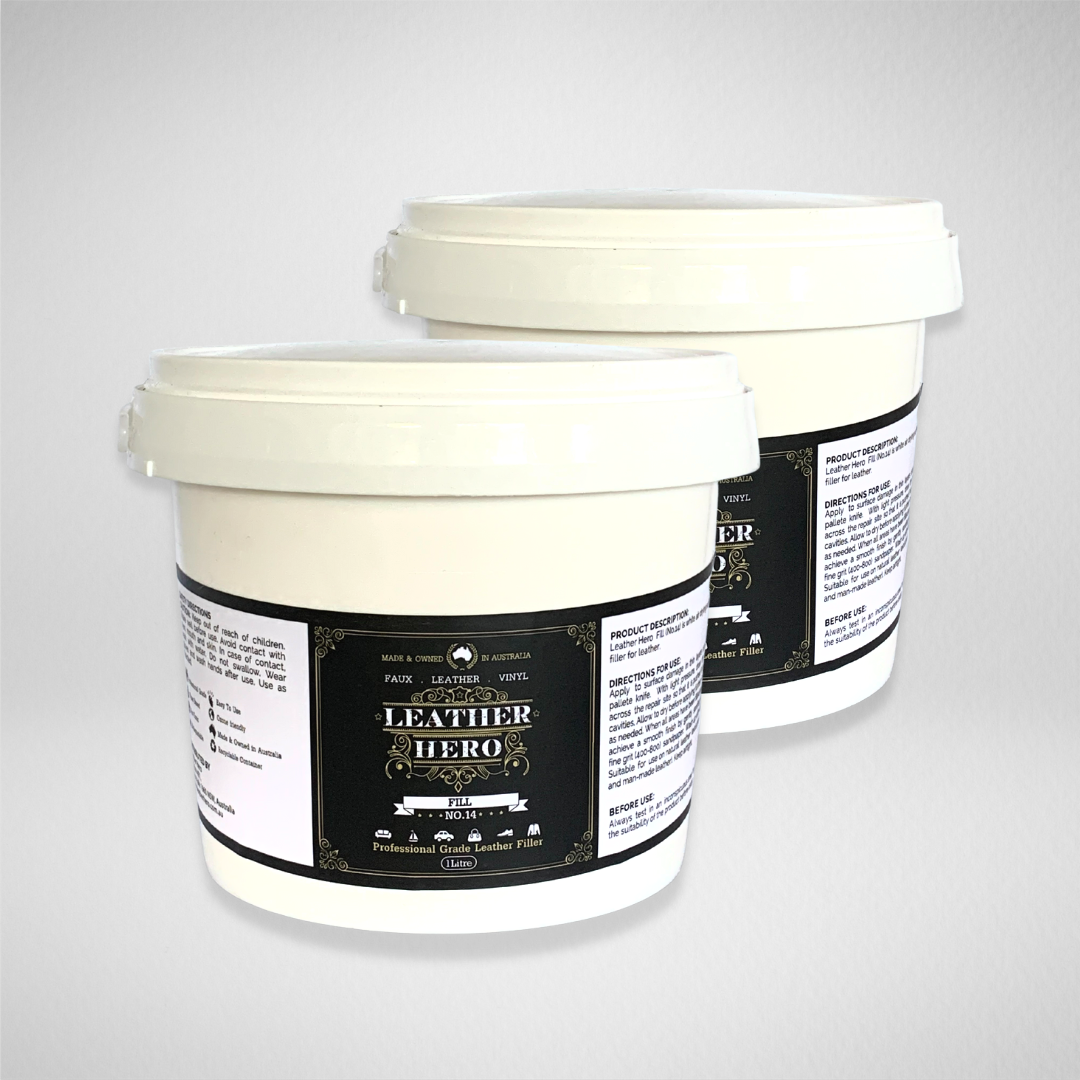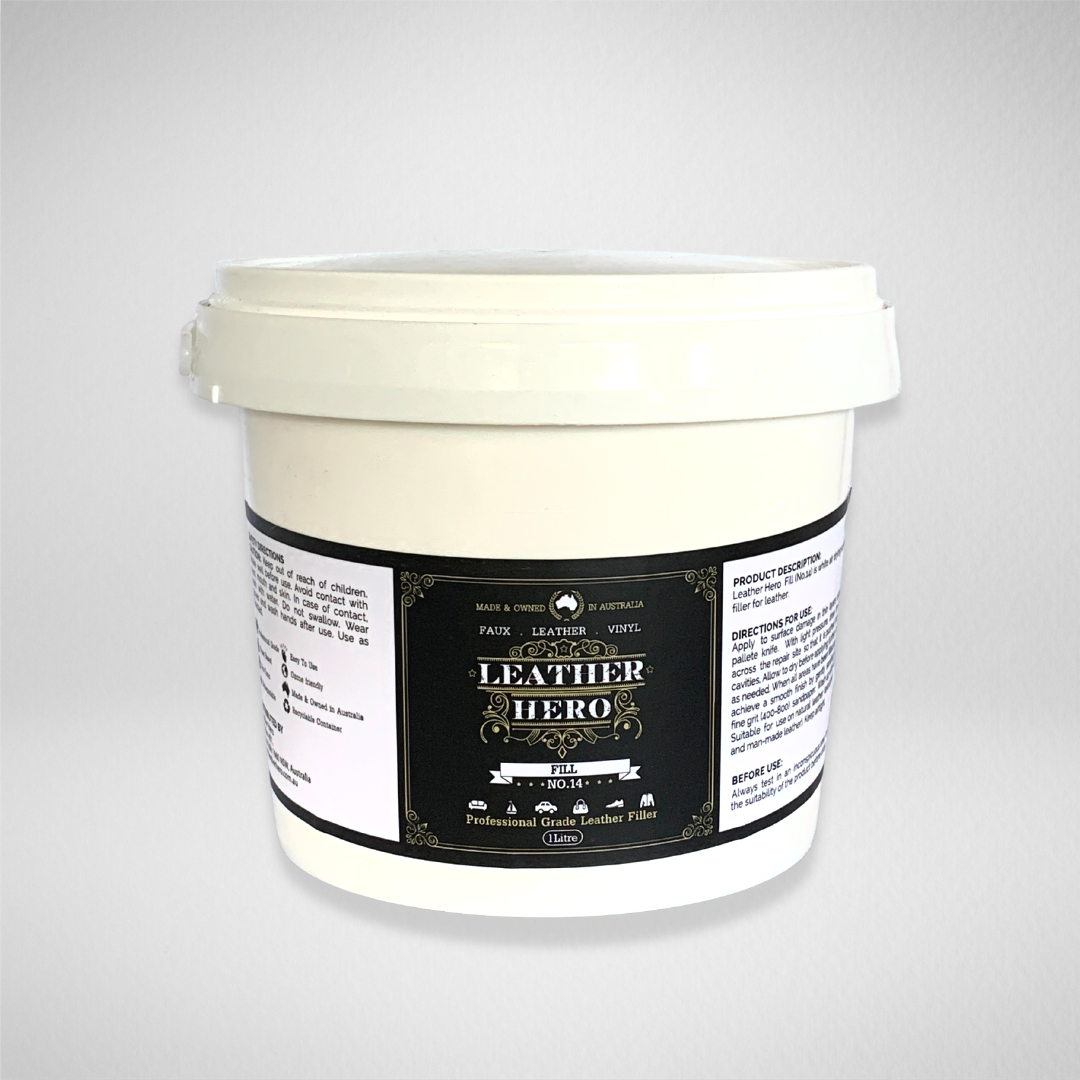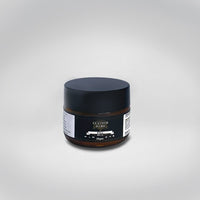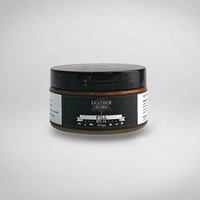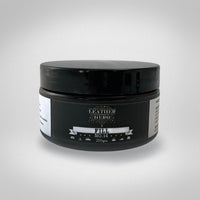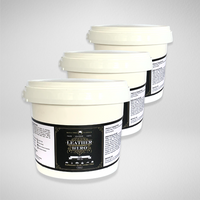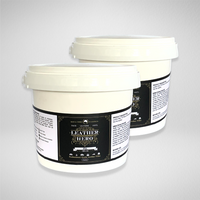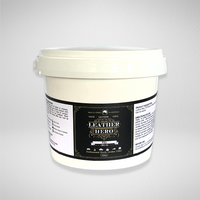 Leather Repair Surface Filler
Fill (No.14)
Fill scratches, cracks, pitting, splits, pet damage and other surface imperfections with this professional-grade leather filler. 
Use to fill and smooth surface irregularities such as scratches, pits, rough surfaces, gaps and joins before recolouring
Flexible
Can be sanded
Strong adhesion properties
Water-based and air drying and can be force dried with care using a hair dryer, gentle sunshine or a room heater
Available in a range of colours

Can be applied with stucco effect to mimic leather grain 
Apply in thin layers until troughs are filled
Fill (No.14) lets you correct surface damage before recolouring. This filling compound air dries in approximately 1 hour or can be force dried with a hairdryer for speedy repairs. Application is easy. Lay the paste in thin layers by palette knife, allowing drying between each coat. Sand to smooth and/or simulate leather grain by stippling or dabbing the filler to create some texture. When you are happy with the surface, conceal your repair work with new colour coatings (primer, paint and topcoat). 
Colours
Leather Filler (No.14) is available in a range of colours and the white version can be tinted using a small amount of Leather Hero paints or dyes (5-10%). 
Available in repair and recolour kits
You'll love the transformations you can achieve with this industry best leather repair product. Also available in value bundles in Repair & Recolour Kits.
Will it stiffen the area?
In the world of fillers, this product is classed as 'flexible'. That means that isn't stiff and brittle and can flex and stretch with a substrate that needs to flex and stretch; that is, leather. For most jobs, any stiffening effect is minor and temporary. More firming may occur on jobs where a lot of filler is used.  
Adhesion
There are universal 'laws' to adhesion. Best results occur when the surface is free of loose particles, keyed by sanding, clean, dry, free of oils, silicones, waxes or any other factor that inhibits a strong bond. 
This content type will accept rich text to help with adding styles and links to additional pages or content. Use this to add supplementary information to help your buyers.
You can use product metafields to assign content to this tab that is unique to an individual product. Use tabs to highlight unique features, sizing information, or other sales information.