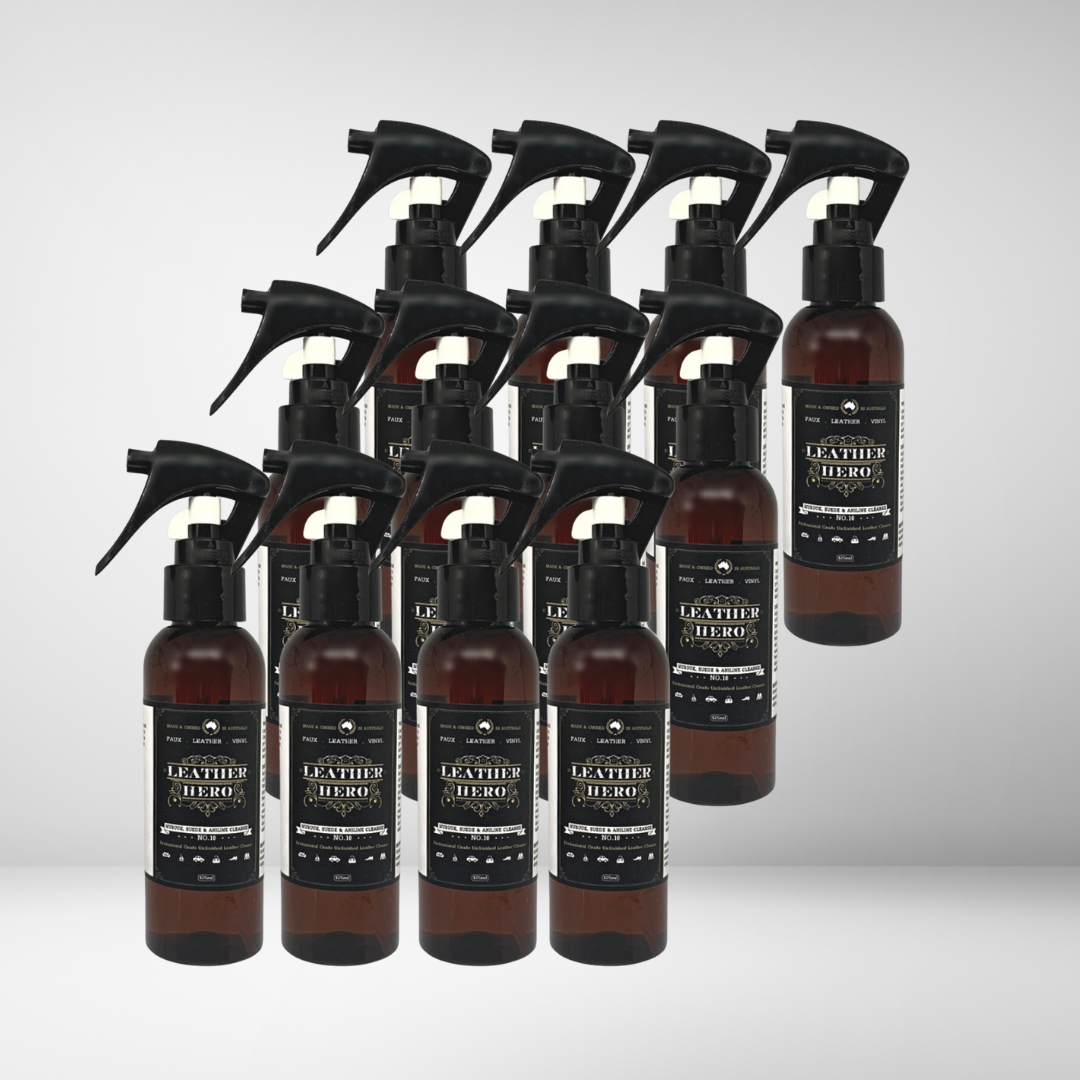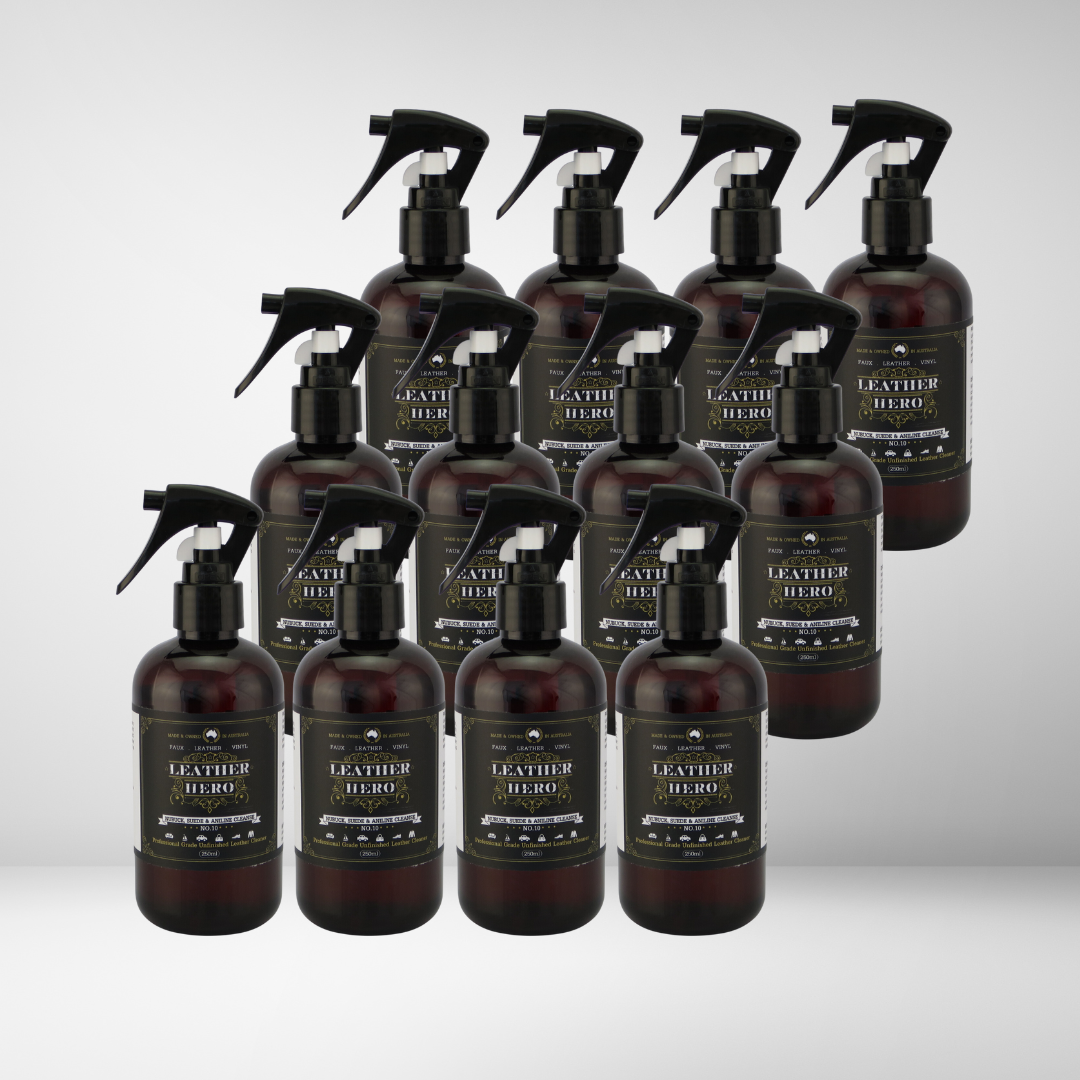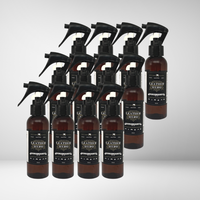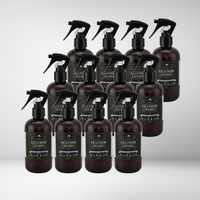 Trade - Nubuck, Suede & Aniline Leather Cleaner - 12 Pack
Nubuck, Suede & Aniline Cleanse (No.10)
This is a gentle cleaner specially formulated for unfinished leathers. It cleans surface dirt and grime and with regular use, can help to soften the appearance of marks and stains. 
Maintenance strength cleaner. Use every 3 months or as needed
Cleans surface soiling 
Helps to minimise the appearance of some stains with consistent use
Ideal for immediate cleaning of fresh spills (never rub)
Fast drying, pleasant smelling, non-sudsing, and easy to use
Anti-bacterial
Formulated for unfinished/unprotected leathers

Save $$$ when you DIY with the products the professionals use
Calibrated for nubuck, suede and aniline leathers
Soft, beautiful, and luxurious, the leathers are referred to as 'unfinished'. That's because they typically have no or minimal protective coatings or 'finish' on the surface. This can make them particularly vulnerable to indelible marks. When spills happen, fast and correct cleaning can greatly reduce the chance of ugly stains. Minimise oil stains from skin and hair with regular cleaning and conditioning. Once stains have 'set-in' they are usually permanent, although, with regular care, marks can soften and become less eye-catching. 
Anti-bacterial 
Contains a powerful antibacterial that is proven to kill:
Escherichia coli (E coli)
Proteus vulgaris
Pseudomonas aeruginosa
Staphylococcus aureus (MRSA or Golden Staph)
Light and regular care is best
Apply by spray or pour onto a just damp white microfibre cloth. Wipe over the leather using moderate pressure. A soft bristle brush can be helpful to agitate the cleaner into the grain. Wipe away any soiling and follow up with Nubuck, Suede & Aniline Nourish (No.11) to nourish, maintain suppleness and leave your leather feeling beautiful. 


Suitable for use on nubuck, suede and aniline leathers.
50ml: 1 or more handbags, pairs of shoes or 1 small leather jacket
250ml: 1 or more treatments of a 2 seater sofa, recliner or pair of armchairs
500ml: 1 or more treatments for a 3-5 seater sofa
1L: Multiple large treatments
2L: Multiple large treatments
3L: Multiple large treatments
Pack sizes
50ml
250ml
500ml
1L
2L
3L
1) Vacuum to remove any dust and grit from the surface and crevices
3) Pour a generous amount of Nubuck, Suede & Aniline Cleanse (No.10) onto a clean, dry or just-damp microfibre cloth. Squeeze to incorporate throughout the cloth
4) Wipe over one area at a time, using moderate pressure until all areas have been treated
5) On high traffic zones and heavily soiled areas, a scrubbing brush can be used to gently agitate dirt from the grain
6) Repeat every 3 months or so as part of your regular leather care regime
7) Follow with Nubuck, Suede & Aniline Nourish (No.11) and Protect (No.3) (after testing for compatibility with your leather)
Ideal for: Cleaning surface grime from unfinished leathers such as nubuck, suede & aniline. Can also be used on waxed and pull-up leathers.
Use with: Leather conditioner Nubuck, Suede & Aniline Nourish (No.11). After patch testing, also use with leather protector Protect (No.3)
Application schedule: Use evey 3 months or so. Can be used more frequently on leather in high traffic environments
Application method: Best applied by hand using a microfibre cloth and a wiping technique together with gentle scrubbing as needed.
Best accessories: A white microfibre cloth and scrubbing brush
Instructions: On the labels, Directions for Use tab, Tips and under the How To tab in main menu
Drying time: 30 mins or more.
Time before use: Wait until the leather feels dry; typically a few minutes to a few hours. The amount of cleaning product used impacts drying time
Available in kits: Yes
Tips:
Regular use produces best results
Leather protector Protect (No.3) can be applied afterward but must be tested for compatibility with your leather first. In rare instances, leather may darken in response to Protect (No.3)
Maintain a cloth for leather cleaning. After use, launder then store with the bottle of Nubuck, Suede & Aniline Cleanse (No.10)
Test before use: Always test products in an inconspicuous area first. There are many makers of leather and leather coatings and whilst most are to standard, there may be some that are not
Storage: Lid on tight and away from direct UV light and heat (in a cool dark cupboard). Avoid contaminating the contents with baterial sources including skin
Perfectly balanced
When it comes to leather cleaners, stronger is not necessarily better. Rather, it's more about using the right type of cleaner for your leather and purpose.
Nubuck, suede and aniline leathers need a gentle pH neutral wash that removes surface grime without drying out the leather.
The best approach
The No.1 secret in leather care is light and regular servicing.
Four light cleans per year are better for your leather AND easier for you than one arduous spring clean using harsh methods and stong products.
When it comes to unfinished leathers, having a suitable cleaner on hand for when accidents and spills happen can be the difference between a shadowy mark and a stark, eye-catching stain
Compare our Cleaners
Not sure if Nubuck, Suede & Aniline Cleanse (No.10) is the one you want? Here is an overview of our cleaners.
The Gentlest Cleaner
Formulated to safely clean unfinished leathers, this product cleans grime and spills and helps to prevent damage (drying and cracking). Keep it on hand so that you can address spills as they happen. With regular use, the inevitable marks and stains that occur on unfinished leathers can be minimised.
The All-Rounder
Calibrated for the routine care of pigmented (painted/coated), waxed and synthetic leathers, this cleaner removes soiling from your car seats, handbags and furnishings. For sofas, a 3 monthly service is usually ideal and makes the work quick and easy. For overdue spring cleans, grab a scrubbing brush and lots of microfibre cloths.
Check out Cleanse (No.1) HERE.
Strong Surface Prep Before Colour Work
This strong cleaner is the one you need when you are doing repair and colour work. It's job is to remove the waxes, silicones, oils, emolients and grime from the surface so that the new colour and coatings stick well. Use generously and scrub thoroughly. This cleaner can also be used as a spot cleaner for stubborn marks.
Check out Spot & Prep (No.4) HERE.
For Those Dark Shadowy Dye Stains
Dark fabrics can transfer dyes onto and into leather. This cleaner can remove transferred dyes when they are on the surface. Once they have penetrated it can reduce or minimise the stain. Keep this cleaner on hand, along with a scrubbing brush and microfibre cloth to tackle transferred dyes as they happen.
Check out Dye Remover (No.15) HERE.
Destroys Mould
This product removes mould and mould spores and inhibits future outbreaks. It can be used on most leathers including furnishings, cars and apparel. After treating mould, clean your leather to remove the organic matter that feeds mould (such as grime from hands, food spills etc). Follow up with a nourishing conditioner that's right for your leather.
Check out Mould Remover (No.21) HERE.
For Pesky Ink Marks
Ink marks from pens and biros can be on and in leather. This cleaner can remove ink when it's on the surface and can minimise it when it has penetrated. Keep it on hand to deal with ink accidents as they happen. Never rub as this can remove coatings.
Check out Ink Remover (No.) HERE