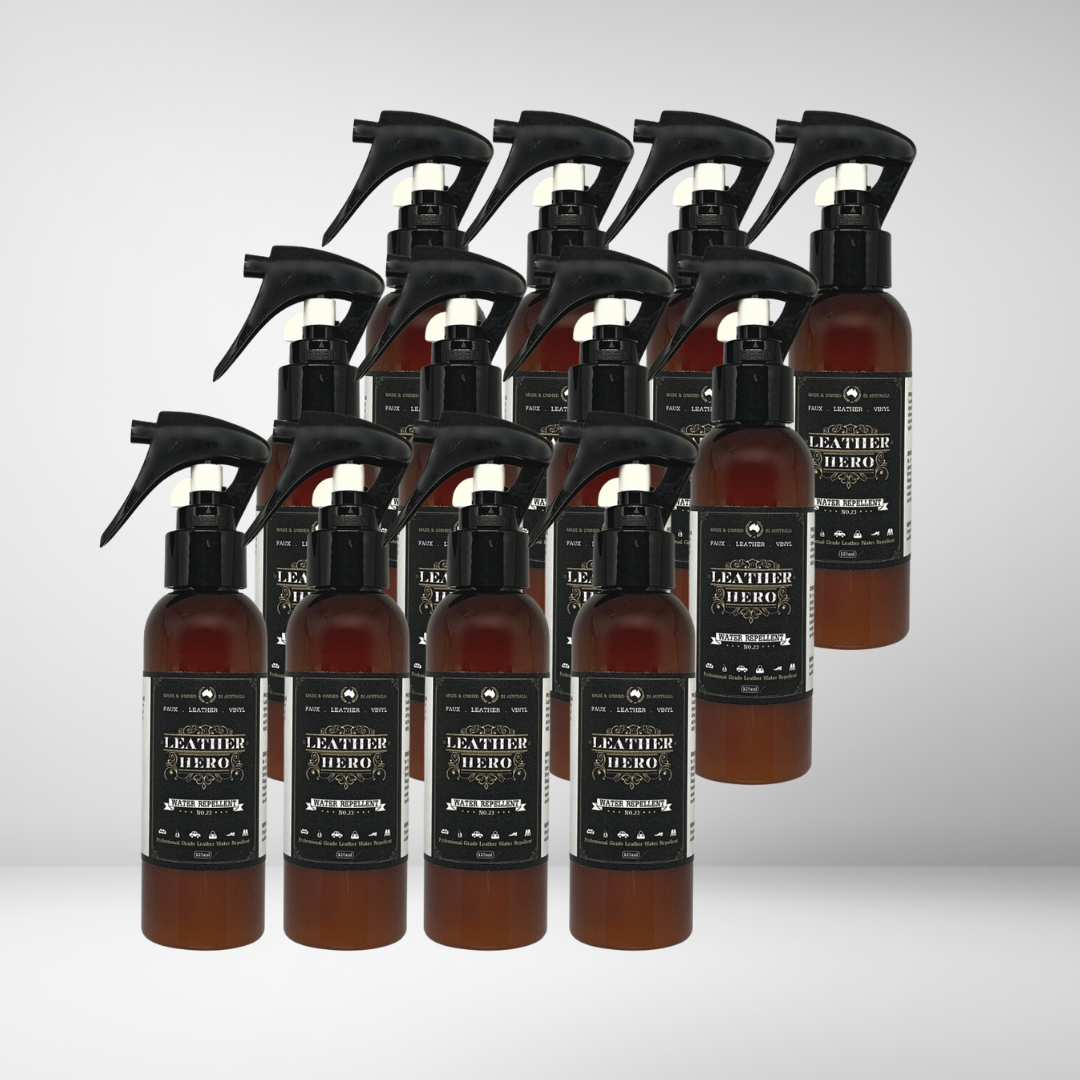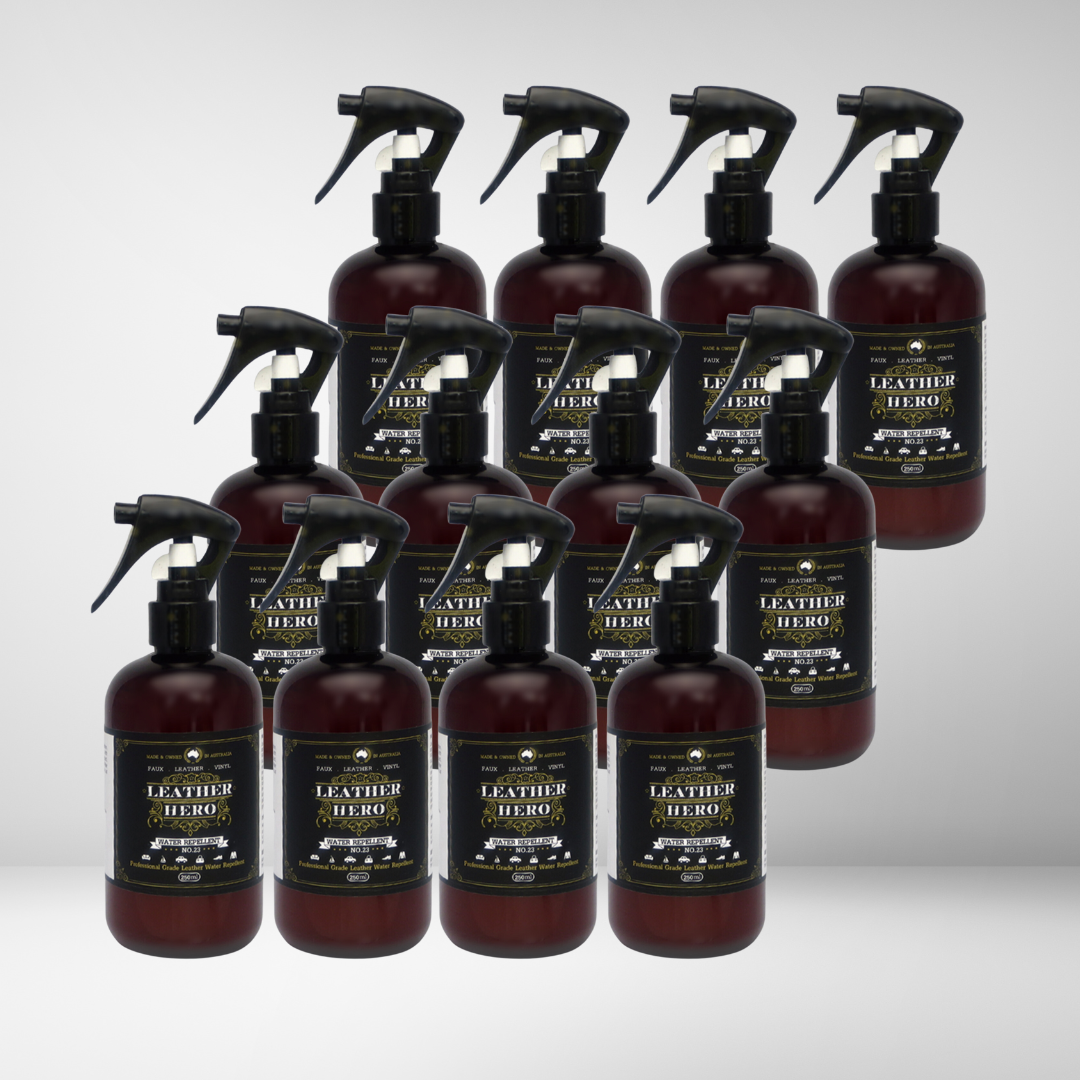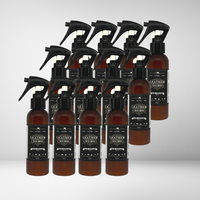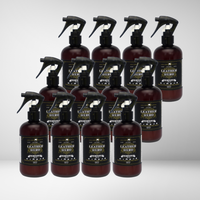 Trade - Leather Water Repellent - 12 Pack
Water Repellent (No.23)
This is a flexible, breathable water repellent for all types of leather.
Helps to minimise the absorption of water spills and splashes
Easy to apply
Low sheen finish
Invisible, soft, flexible and durable
Non-greasy
Won't add shine or darken most aniline leathers
Use in conjunction with Protect (No.3) for maximum water, soiling and UV protection
Helps to prevent marks and stains
Suitable for furnishings, cars, fabrics, apparel and footwear 
Easy application
Apply to clean leather. Spray directly onto the leather or pour onto a cloth and wipe over one area at a time. Allow drying then apply a second coat (approximately 30 mins to 2 hours). Allow to dry. Wait 1 days before using if possible. 
Durable
This coating has good rub resistance which means that it wears well with normal use and appropriate care. On average, the reapplication schedule is around 3 months. Where usage is infrequent, for example, car back seats that are rarely used,  reapplication may only be needed after 12 months or longer. The drivers seat may benefit from more frequent applications. 
For leather jackets and footwear
Ideal for protecting leather that may get wet often, such as motor-cycle jackets and footwear. 
Protection for anilines
Unfinished leathers like nubuck, suede and aniline can be particularly vulnerable to spills that become permanent stains. Water Repellent (No.23) helps to slow, minimise or prevent water from penetrating leather. This can mean a reduced risk of stains occurring. As always, test in an inconspicuous area first and ensure your leather is dry before applying.  
For maximum all-round protection
To give your leather full protection, use Water Repellant (No.23) under Protect (No.3). The combined benefits of these formulations will deliver maximum water, soiling, stain, and UV protection whilst also making cleaning easier. 
Want to know more about the products? Read through the info on this page then head to the How To library to learn more about our products.
Need accessories for your job? Here they are.
Instructions: Print the Directions for Use, Tips and Details  
Suitable for use on most leathers. Test before use.
125ml: 2-3 handbags or 1-2 sofa seat cushions or 1 x car seat
250ml: 1 x armchair, 3 x standard seat cushions plus 2 armrests or 2 or more car seats
500ml: 1 x 3 seater sofa or 1 x car interior
1L: 5 seater lounge suite plus ottoman or chaise, small modular sofa or 1 x modular sofa or lots of touch-ups to high traffic areas only
2L: Multiple large jobs or touch-ups
3L: Multiple large jobs or touch-ups
1) After cleaning, allow leather to thoroughly dry.
2) Apply to one area at a time using a microfibre cloth or sponge. Allow to dry.
2) Apply a second coat and allow drying.
Ideal for: Repelling water and spills from leather that is in a high splash environment.
Use with: Spot & Prep (No.4). for heavily soiled leather or Cleranse (No.1) for leather that is regularly cared for. Water Repellent must be applied to clean and dry leather.
Application schedule: Reapply approximately every 3-6 months or as needed.
Application method: Spray directly onto the leather or pour onto a microfibre cloth and wipe over one area at a time. Allow ample drying time between coats.
Finish: Matte - Satin
Best accessories: Microfibre cloth
Instructions: On the labels and the Directions for Use tab
Drying time: 30 minutes - 2 hours
Time before use: wait 24 hours
Available in kits: No
Tips:
Ensure your leather is dry before applying
Protect your work area and wear gloves
Work quickly and thoroughly
Apply each coat in a different direction to ensure no areas are missed
Test before use: Always test products in an inconspicuous area first. There are many makers of leather and leather coatings and whilst most are to standard, there may be some that are not
Storage: Lid on tight and away from direct UV light and heat (in a cool dark cupboard). Avoid contaminating the contents with baterial sources including skin.
Bewteen each application of Water Repellent (No.23), maintain a regular care regime using suitable products for your leather type :
1) Clean
2) Condition
3) Protect
Minimise watermarks
Aniline leather boots can quickly collect marks from water and other spills. Water Repellant (No.23) offers protection from permanent stains.
Clean and refresh high traffic zones every 3 months or so to maintain maximum protection.
Suitable for use on almost all leathers including suede and fabrics.
Low sheen, invisible protection
This comparision image shows the boots Before treatment and then After treatment with Water Repellant (No.23) and Waxy Nourish - Matte (No.9). The colour is fractionally darker and the finish has a natural matte look. The leather still feels warm and natural to touch yet it has the benefits of water splash protection.
Compare our leather protectors
There are different types of products that provide leather protection. They can used in combination for maximum effect. To learn more about the different features and applications of our protectors, read on....
This protector is suitable for use on most leathers including some anilines. It is an n invisible wipe-on cream that:
- provides an anti-soiling barrier (makes it hard for dirt to stick to the leathers surface)
- slows the absorption of transferred dye and ink
- UV protection to minimise the fading and drying effects of the sun
- leather stays cleaner for longer
- makes cleaning easier
- slows the absorbtion of spills
It is reapplied every 3 months after cleaning and conditioning. It's ideal for cars, furnishings, apparel, bags and more. The finish is satiny.
Protect (No.3) can be used over Topcoat (No.7) and Water Repellent (No.23).
Check out Protect (No.3) HERE.
This protector is a wipe-on coating, suitable for most leathers and fabrics that :
- repels water spills, splashes and short rain exposure
- help to prevent water marks
- minimises the potential for leather to harden as a result of lots of water exposure
It is reapplied every 3 - 6 months after cleaning. Ideal for cars, furnishings, apparel, footwear and leather that is exposed to splashes. The finish is low sheen.
Use over Topcoat (No.7) and before your preferred conditioner then Protect (No.3).
This is a clear film-forming PU leather coating for pigmented (painted/coated) leathers that :
- provides maximum rub resisitence to extend the longevity of colour coatings and reduce wear and tear from abrasion
- finishes leather paint with an appealing look and feel
- seals dyes to prevent dye transfer to skin or clothing
- is the same as the clear finishing coat applied to your pigmented leather when it was manufactured in the tannery
- protects leather and coatings to reduce the absorption of spills, body oil and perspiration
Available in Matte, Satin, Gloss, and High Gloss. Correct surface prep is vital to durable results.
It can be used under Water Repellent (No.23) and Protect (No.3) (in that order).
All conditioners add a minor element of protection against dryness, spills, water marks and stains when used regularly.