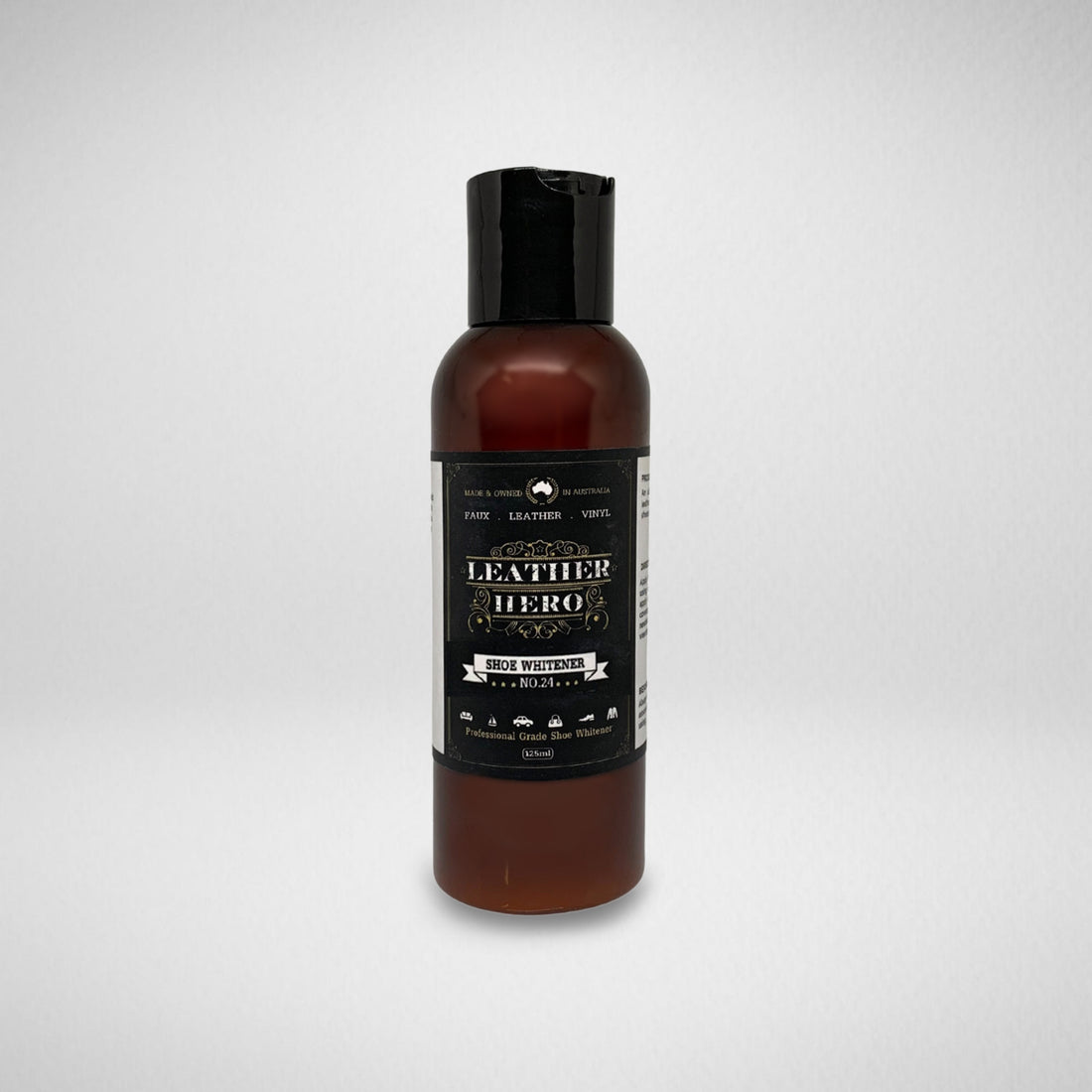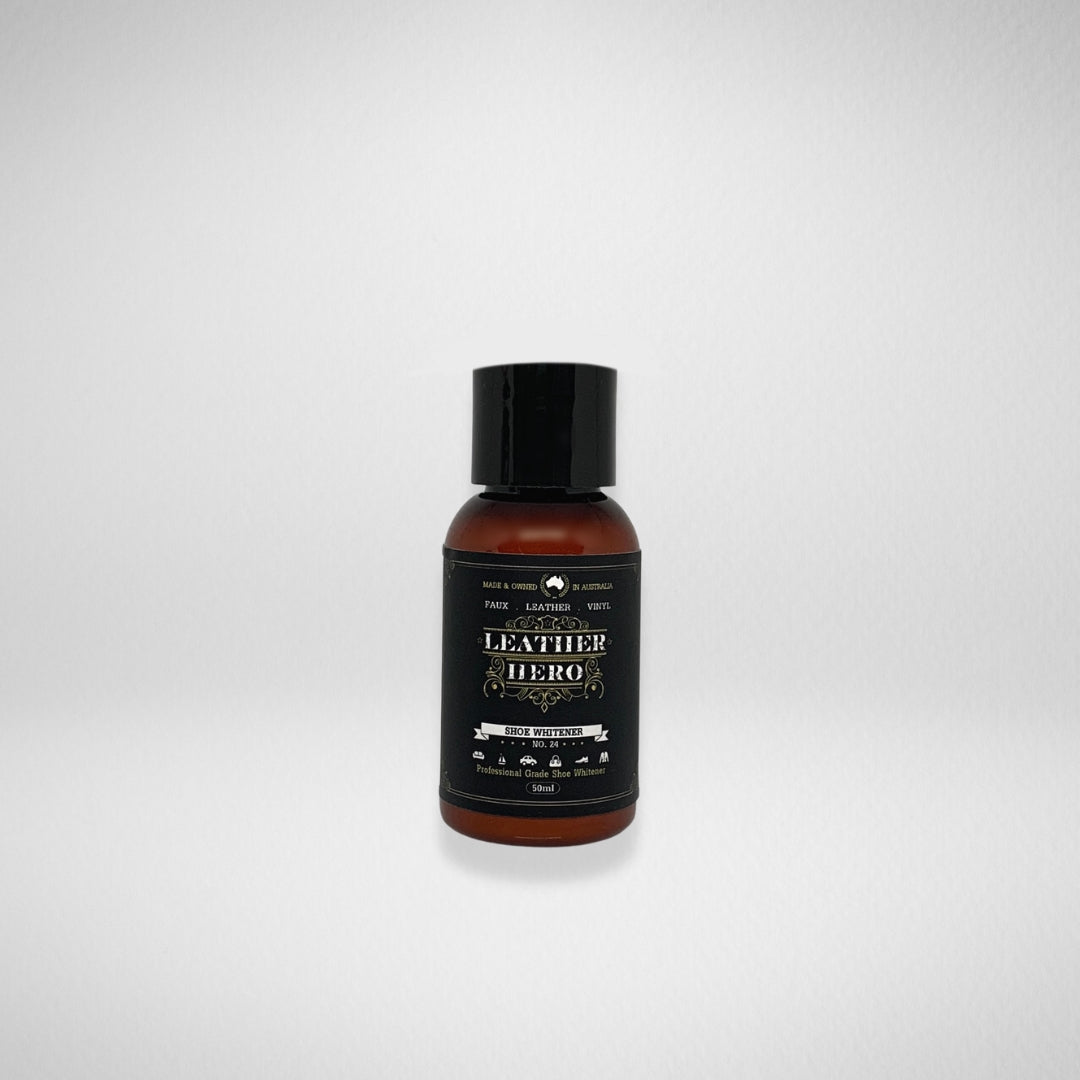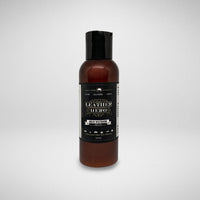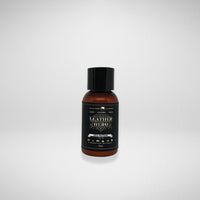 Leather & Vinyl Shoe Whitener
Shoe Whitener (No.24) 
An all-in-one colourant for white sports shoes and fashion sneakers.
Easy to use, wipe-on leather colourant
Fast drying
Can cover marks and stains 
Bonds to leather, vinyl and rubber
Use to whiten and brighten your favourite white sports shoes, trainers and loafers

Coverage can be sheer to full
Keep your shoes white. Reapply as needed
Shoe Whitener (No.24) can be applied to clean surfaces that are free of dirt, oils, waxes and silicones. For optimal adhesion, prep the surface with Spot & Prep (No.4) (sold separately).

Prep with a strong cleaner
Achieve optimal adhesion when you clean the surface thoroughly with Spot & Prep (No.4). For heavily soiled shoes, launder, scrub, wash, or wipe with a wet cloth to remove dirt first. Then prep the surface for colouring using Spot & Prep (No.4). 
Refresh white canvas and suede parts
Re-whiten suede, fabric, and canvas parts with Suede & Fabric Colour (No.35) in the colour Sports Shoe White (sold separately). This bright white penetrating colourant colours fabrics and other porous or woven substrates. It does not form a film that coats or seals, thereby leaving your fabrics looking natural. After thorough cleaning, apply by spray, brush or sponge to any parts of your shoes. Allow each coat to dry then reapply as needed to build the level of coverage you require. 
Suitable for use on leather, vinyl and rubberised soles.
Designed with white sports and fashion shoes in mind, this leather finish is easy to apply and gives a fast and durable make-over.
1) Clean with Spot & Prep (No.4) to remove soiling, waxes, oils and silicones.
2) Apply one or more coats of Shoe Whitener to the areas you wish to treat. Allow drying
Note: Avoid laces, fabric parts and the bottom of the soles.
3) Repeat for more coverage and refresh as needed.
50ml/Starter: 1 pair shoes
125ml/Essentials: 2-3 pairs shoes or multiple touch-ups
250ml/Like A Pro: 6 pairs shoes or multiple touch-ups
Coverage estimates are approximate. Your job may require more or less product.
Ideal for: Recoating pigmented (painted/coated) white leather, vinyl and rubberised soles of casual and sports shoes.

Use with: Cleasne (No.1) and Protect (No.3)

Application schedule: As needed.
Application method: By hand using a sponge or brush.

Best accessories: Microfiber cloth, applicator sponge, sandpaper, brush, gloves.

Instructions: On the bottles, under the How To tab on this website, under Directions For Use tab on this page.

Drying time: Touch dry in 1 hour, dry in 2 days and cured in 14 days.

Time before use: 2 or more days where possible.

Available separately: Yes, all products are available for purchase separately.

Tips: See Directions For Use.

Test before use: Test in a hidden location before use.

Storage: Store in a dark, dry place with the lids on tight. Avoid bacterial contamination.
Results: May be affected by the age, quality and condition of the substrate.
Regularly wipe over treated areas with a damp cloth to remove light soiling.
Use Cleanse (No.1) every 3 months or so for a deeper clean.
Every 3 months, apply a leather conditioner.
Apply Protect (No.3) to help minimise future soiling.
andrew said
"The results are amazing. I literally tried everything to rescue these shoes but your product worked a treat. Good as new"
It happens
When normal wear and aging makes your white shoes dirty, discoloured and drab, given them a quick make-over with this easy to use leather colourant.
It is not a polish but rather, a durable colourant the adheres well to leather, vinyl and rubberised soles.
White & bright
Clean away soiling first then apply Shoe Whitener (No.24) with a sponge or brush. For more coverage, apply extra coats with drying between each one. This process can be refreshed as needed.