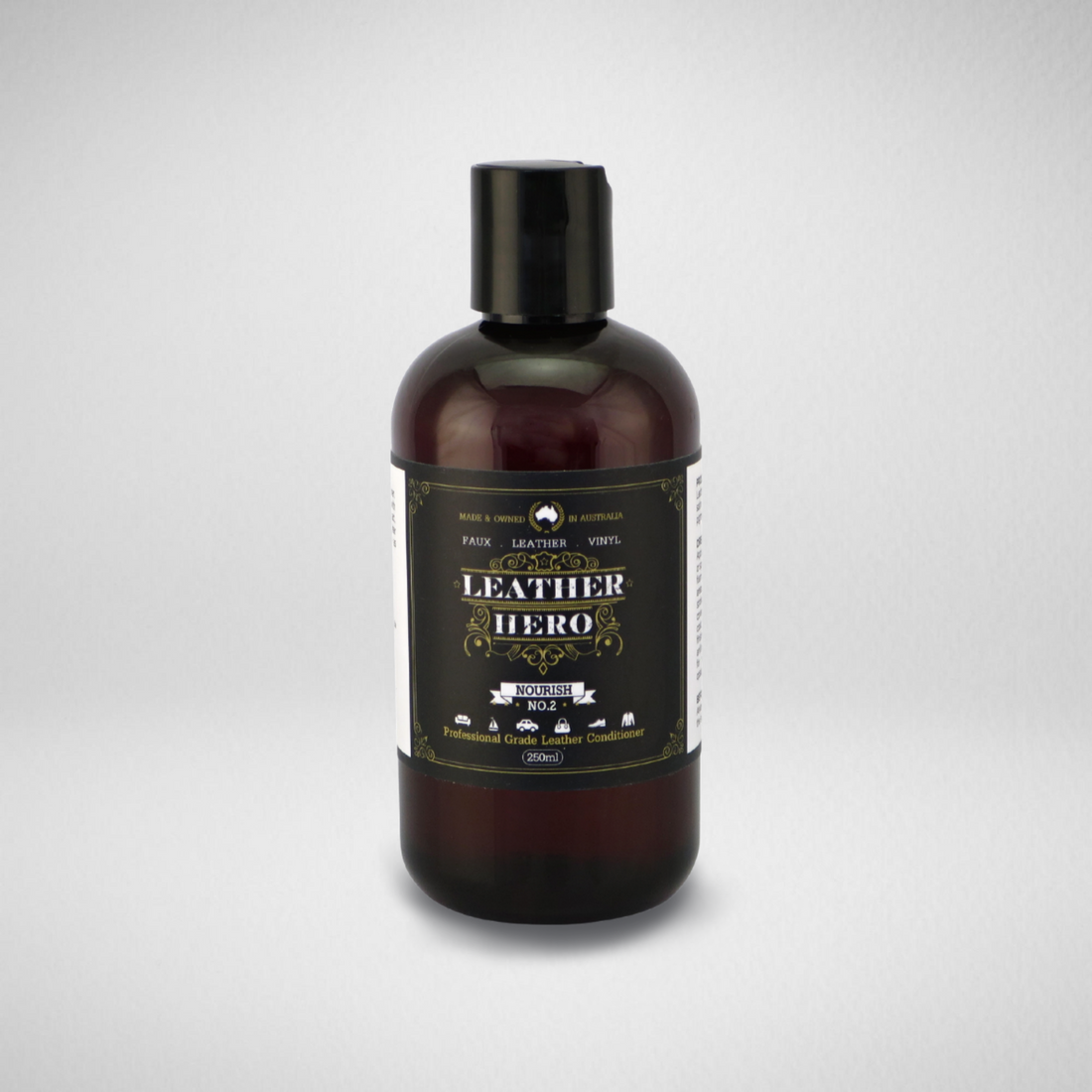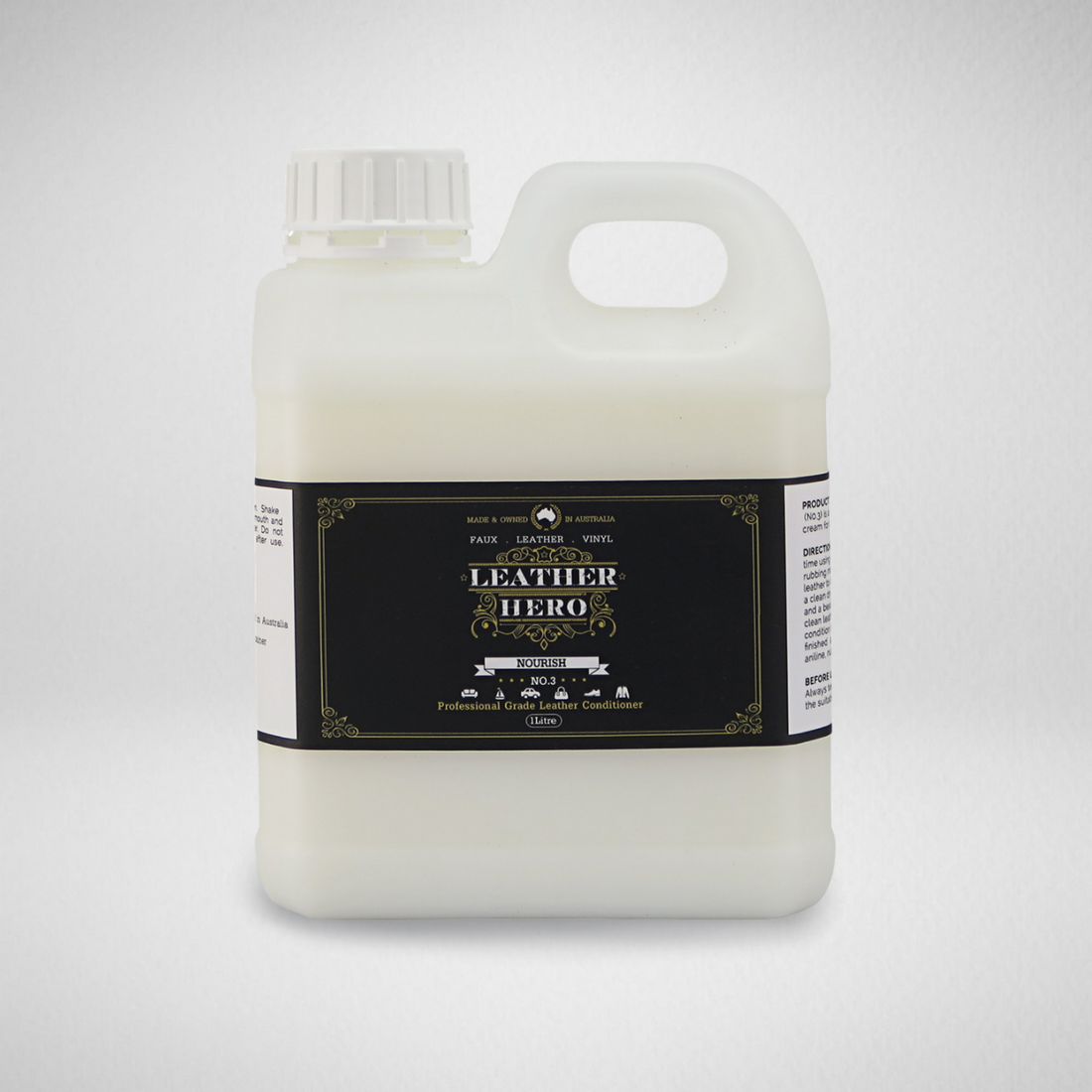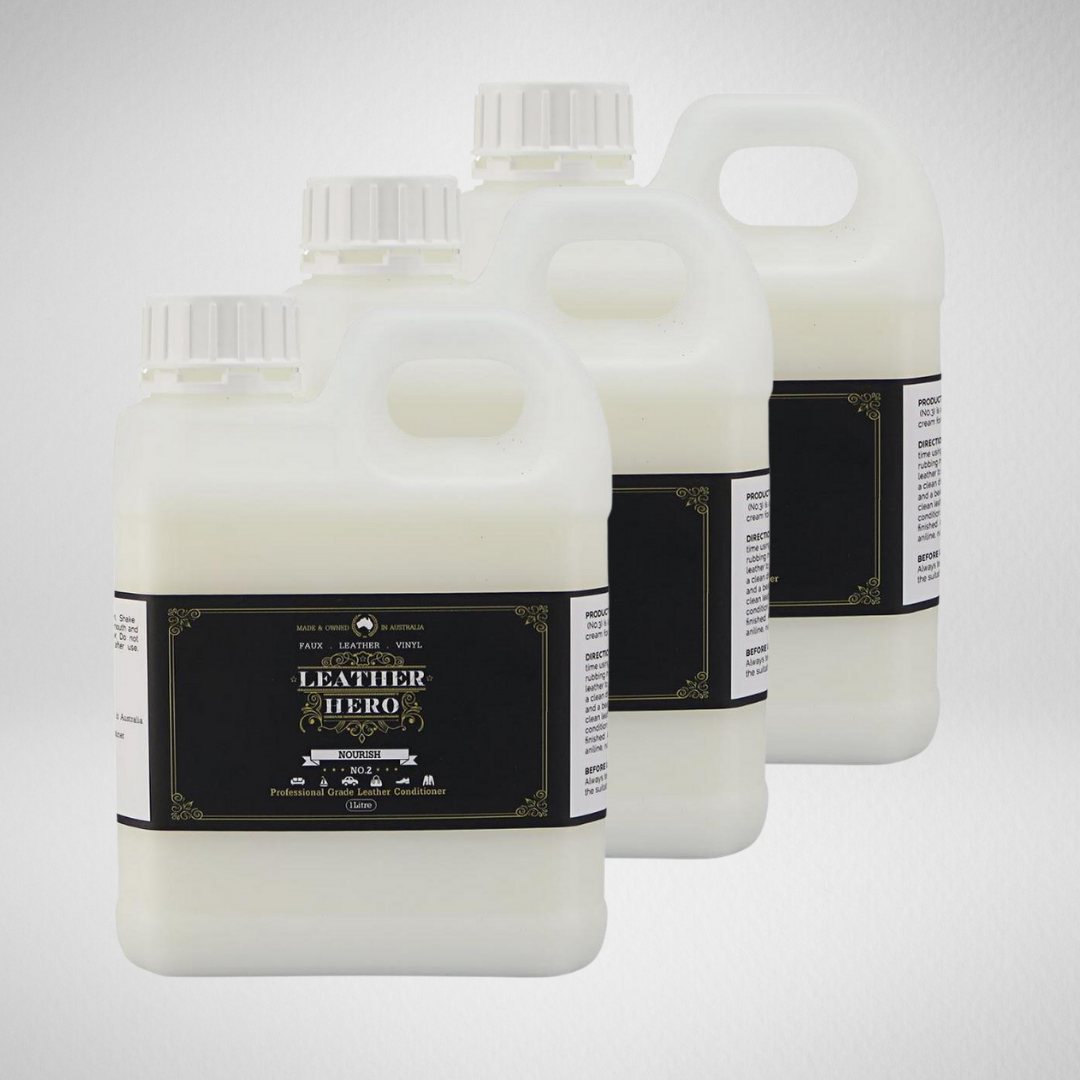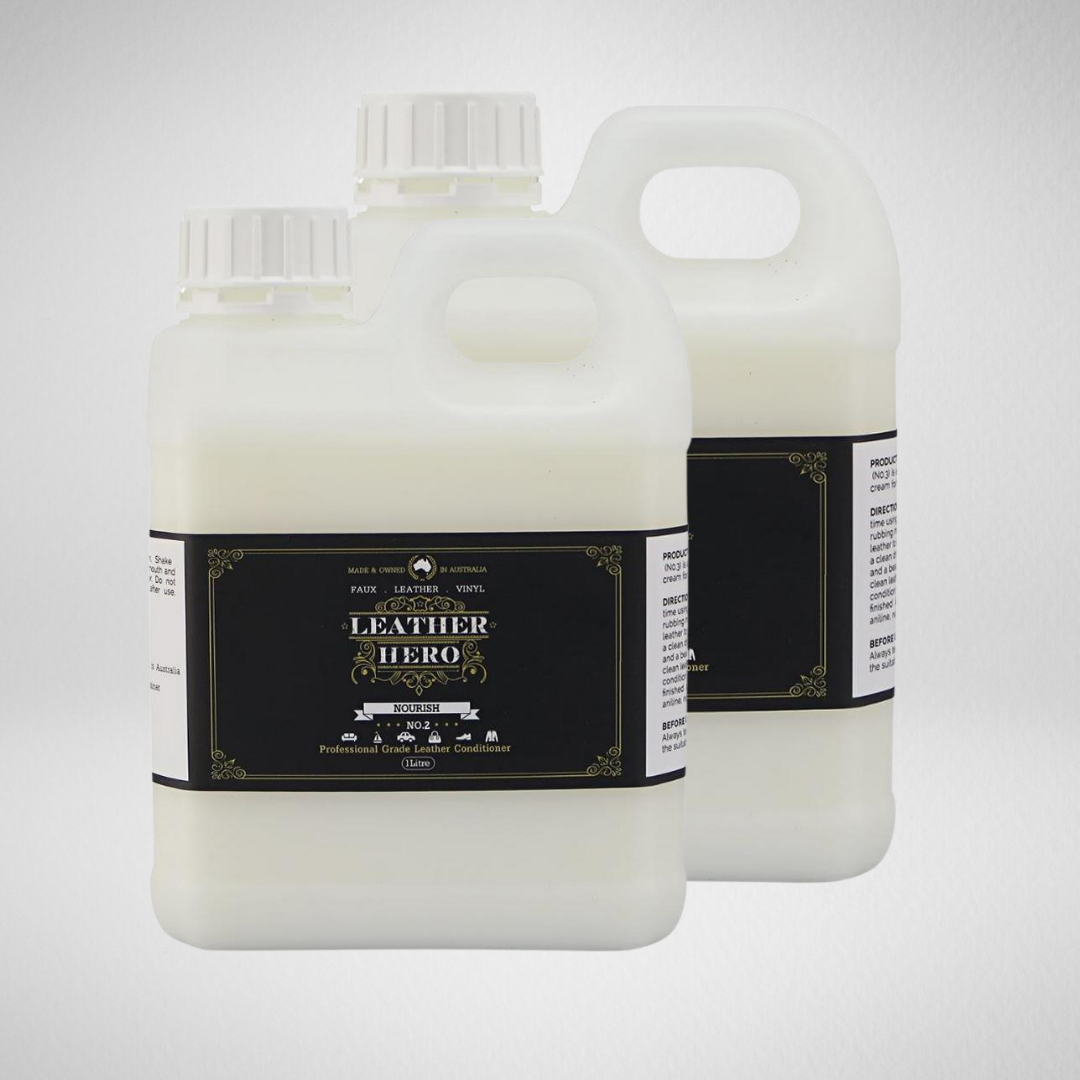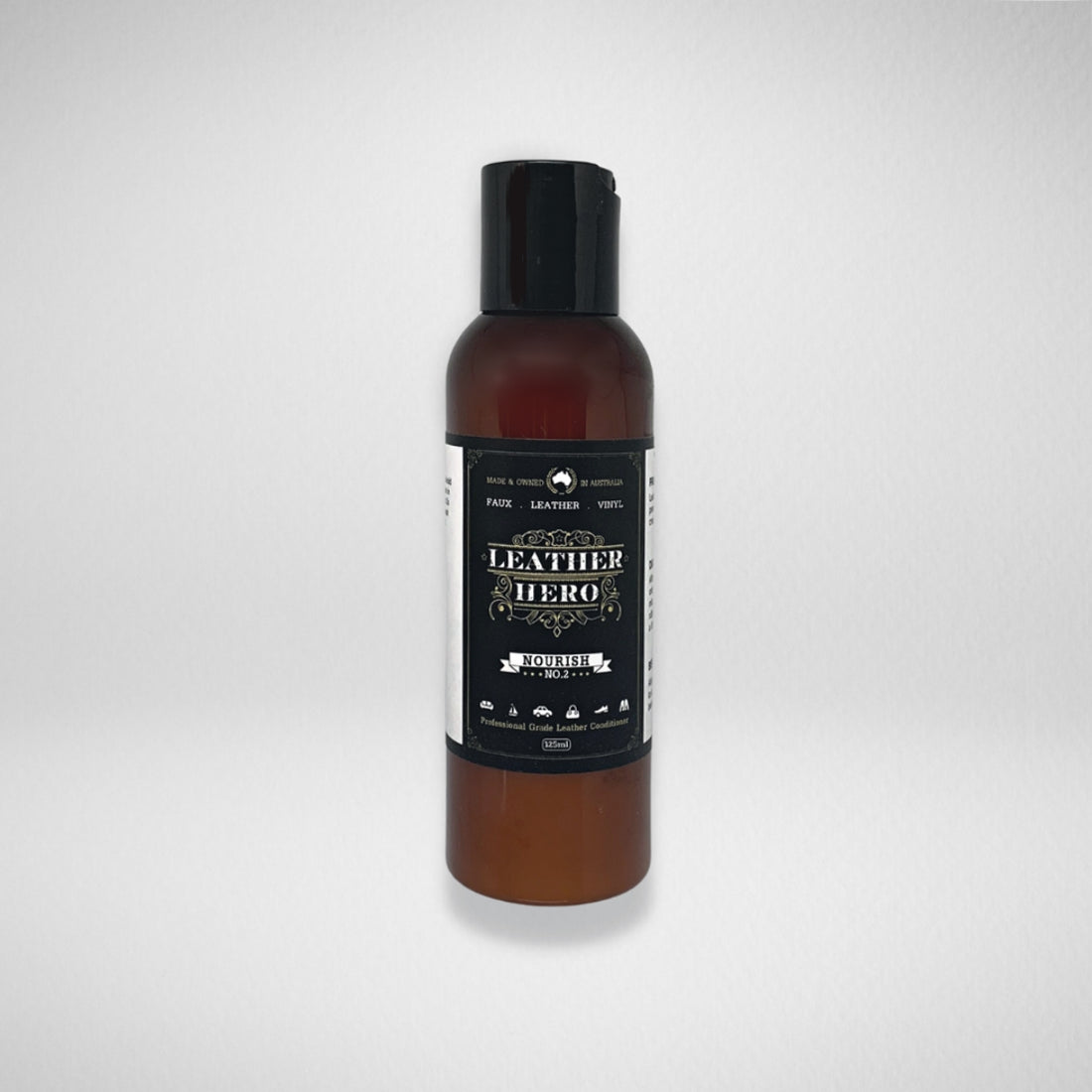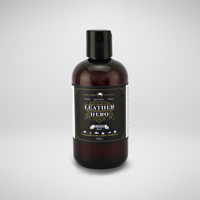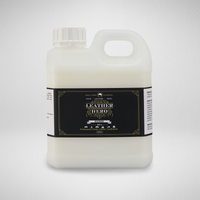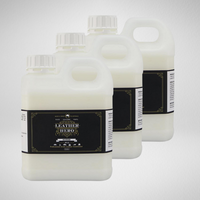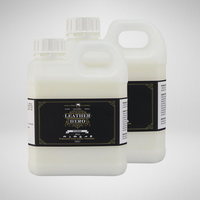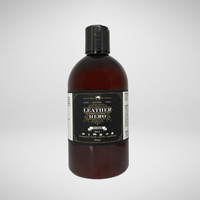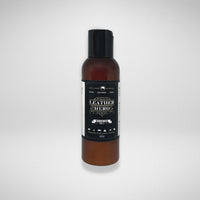 Nourish (No.2)
A non-greasy, nourishing leather moisturiser for coated leathers.
Helps to maintain softness and suppleness

Helps to minimise drying and cracking

Moisturising, penetrating, breathable and protective

Non-greasy, non-slippery, moderate shine with buffing

Best for pigmented leather (painted/coated) sofas, recliners, car seats, apparel, and handbags
Feels beautiful to touch
Silicone free
Maintain and restore suppleness
Regular conditioning with Nourish (No.2) helps to maintain softness and prevent drying and cracking. Suitable for use on coated leathers, use this easy to apply nourishing cream after cleaning with Cleanse (No.1). It penetrates deep into the fibrous structure where its lubricating and moisturising effects go to work.  
The best of nature and science
Featuring the best of nature and science it feels beautiful to touch. This laboratory developed, breathable conditioner is not oily. doesn't attract dust and won't block the pores of your leather. It leaves a subtle, natural, low sheen making it ideal for modern furnishings, handbags and car interiors. 
Trusted by professional leather technicians
Save money and use what the professionals use, Include Nourish (No,2) in your regular care regime to extend the lifespan of your leather. 
Available in 7 sizes and leather care kits.
Want to compare leather conditioners? Read our guide to choosing the right conditioner for your leather
Suitable for use on most pigmented (painted/coated) leather and vinyl. This includes all car leather and most monochrome leathers (for example: beige, white, black, dark chocolate, royal blue, or red leathers).
Can also be used on some waxed and pull-up leathers.
Leathers vary in type, age, finish, and condition. Your job may require more or less.
125ml: a few handbags, a few pairs of shoes, 1-3 treatments of a small leather jacket
250ml: 1 or more treatments of a 3-5 seater lounge suite, 1 or more car interior treatments. Lots of small jobs (bags, shoes, apparel)
500ml: A few treatments of 5 seater lounge suite or car interior. Lots of small jobs (bags, shoes, apparel)
1L: Multiple large treatments
2L: Multiple large treatments
3L: Multiple large treatments
Consider when your leather was last serviced. If it receives regular care, a smaller amount of product may suffice per service. If it has not received any care for 3 months or longer, more product may be needed.
Pack sizes
50ml
250ml
500ml
1L
2L
3L
Before applying Leather Conditioner Nourish (No.2):
1) Vacuum to remove any dust and grit from the surface and crevices
2) Clean with Cleanse (No.1) until leather is free of soiling, body oils, and perspiration, following the Directions for Use provided on the Cleanse (No.1) web-page, packaging and the How To tab
When the leather is clean:
3) Pour a generous amount of Nourish (No.2) onto a clean, dry or just-damp microfibre cloth. Squeeze to incorporate throughout the cloth
4) Wipe over one area at a time, gently massaging into the leather until all areas have been treated
5) Repeat every 3 months or so as part of your regular leather care regime
Ideal for: Moisturising and nourishing pigmented (painted/coated) leathers. Can also be used on some waxed and pull-up leathers. Helps to maintain suppleness and prevent dryness and cracking. Designed to penetrate and deliver a low-shine satiny result that is beautiful to touch
Use with: Leather cleaner Cleanse (No.1) andleather protector Protect (No.3)
Application schedule: Apply evey 3 months or so. Can be used more frequently on leather in high traffic environments
Application method: Best applied by hand using a microfibre cloth and a gently massaging wiping technique
Best accessories: A white microfibre cloth
Instructions: On the labels, Directions for Use tab, Tips and under the How To tab in main menu
Drying time: Typically, a few minutes. Exposed, porous leather may take longer to dry
Time before use: Wait until the leather feels dry to touch
Available in kits: Yes
Tips:
Regualr use produces best results
Apply leather protector Protect (No.3) after Nourish (No.2)
Can be lightly buffed to render a subtle shine. For shinier results, see Waxy Nourish (No.9)
Maintain a cloth for leather conditioning. After use, launder then store with the bottle of Nourish (No.2)
Troubleshooting:
If cleaning and/or conditioning results in coatings disturbance, the original topcoat has failed or worn extensively and needs to be replaced. See our leather repair products and How To guides to find suitable solutions for the job
Test before use: Always test products in an inconspicuous area first. There are many makers of leather and leather coatings and whilst most are to standard, there may be some that are not
Storage: Lid on tight and away from direct UV light and heat (in a cool dark cupboard). Avoid contaminating the contents with baterial sources including skin
What makes a great leather conditioner?
Quick and easy to apply
Penetrates, lubricates and mositurises at the structural level
Non slippery, Non greasy, Non shiny*
Feels beautiful to touch
Promotes a natural, well maintained look
Helps prevent drying and cracking which leads to rips
Helps to extend the usable life of leather whilst also helping to maintain its luxurious good looks
* Want shine? See Waxy Nourish (No.9)
Rehydrate
In the absence of regular cleaning and conditoning, leather can become dry, rigid and prone to cracks and tears.
Nourish (No.2) boosts the moisture level thereby helping to maintain the soft, flexible qualities of your leather.
It's never to early or too late to care for your leather with scientifically tested and proven products.
Compare our Conditioners
Not sure if Nourish (No.2) is the one you want? Here is an overview of our conditioners.
The Lightest Conditioner
Designed to penetrate, moisturise, soften and help prevent drying and cracking without adding shine, darkening the colour or depressing the nap of of unfinished leathers. This is the safest choice for the regular care of uncoated leathers.
Check out Nubuck, Suede & Aniline Nourish (No.11)
The All-Rounder
Designed for pigmented (painted/coated) leathers this conditioner penetrates, moisturises, softens and helps prevent drying and cracking whilst leaving a beautiful feel and minimal shine. It is great for the routine care of car seats, coated furniture and lots more.
The Substantial Conditioner
Designed for waxed and oil pull-up leathers, this conditioner penetrates, moisturises, softens and helps to prevent drying and cracking whilst leaving a transparent veil of protective matte or shiny wax on the surface. It can be used on a wide range leathers including some anilines.
Check out Waxy Nourish (No.9)
The Once A Year Treatment
Designed to maintain and restore suppleness to leather that has stiffened over time, this potent treatment penetrates, moisturises, softens and renders a subtle shine. It can be used on most leathers including some anilines as a once a year adjunct to your routine care regime.
Check out Softener (No.22)