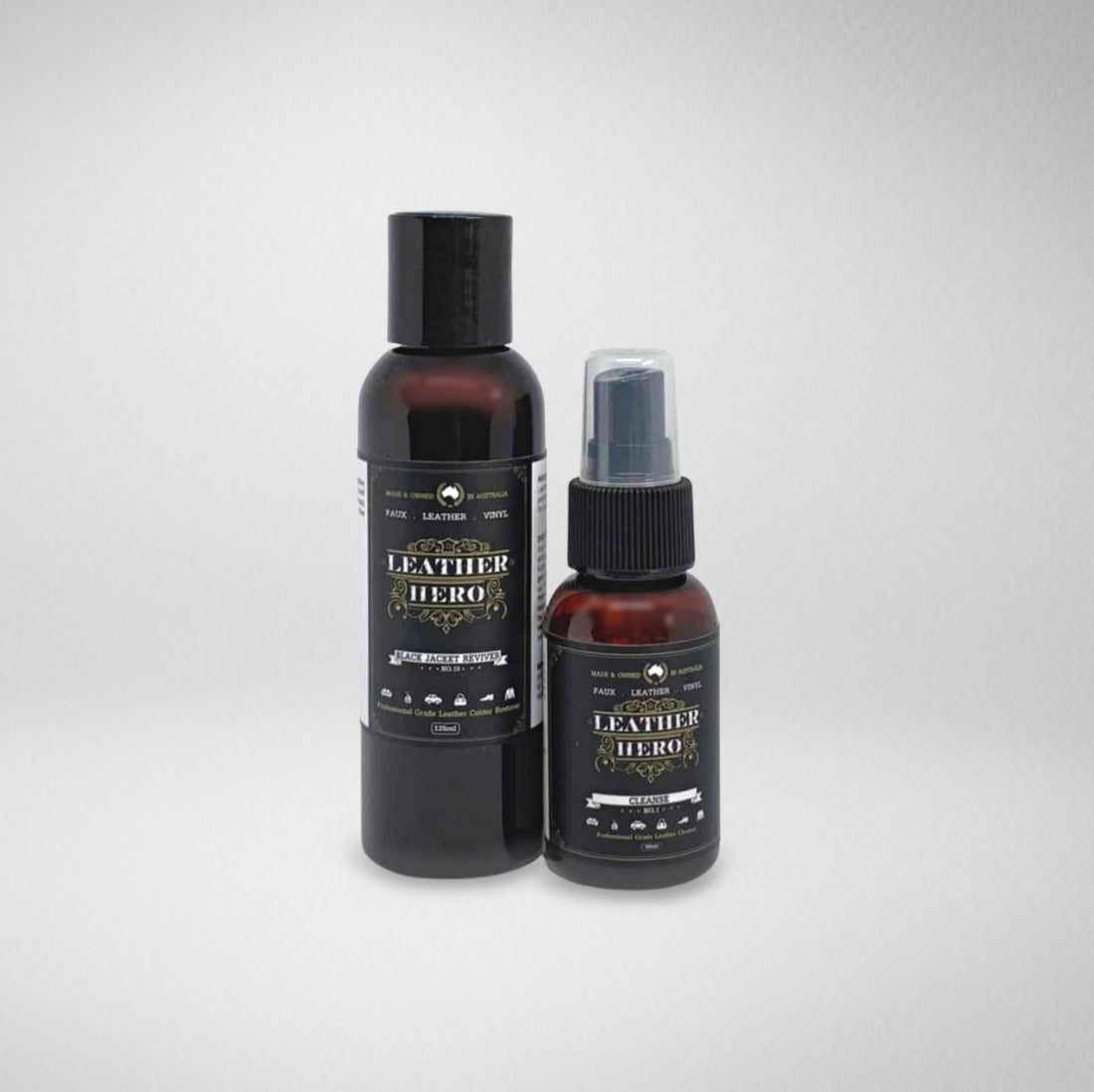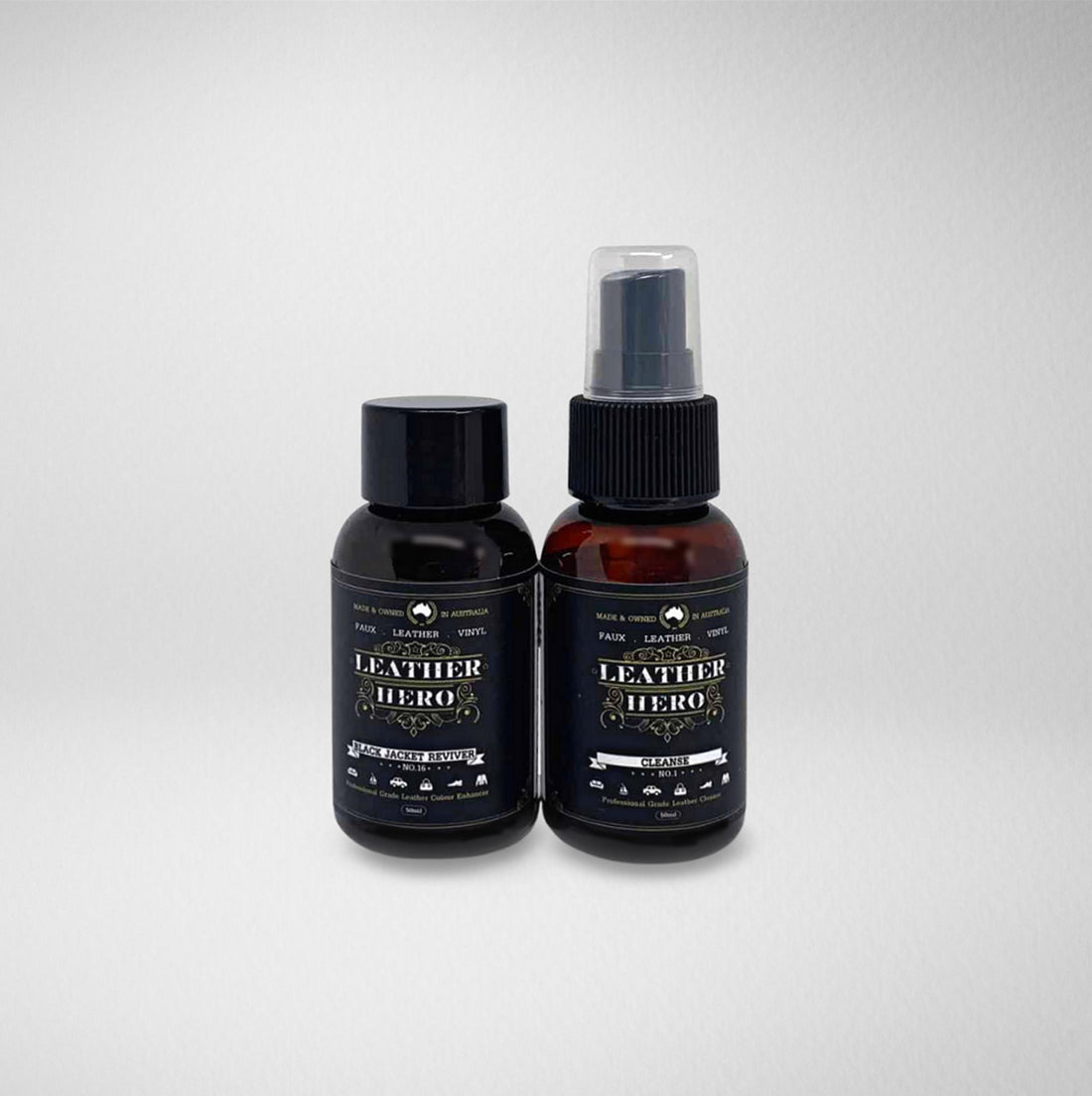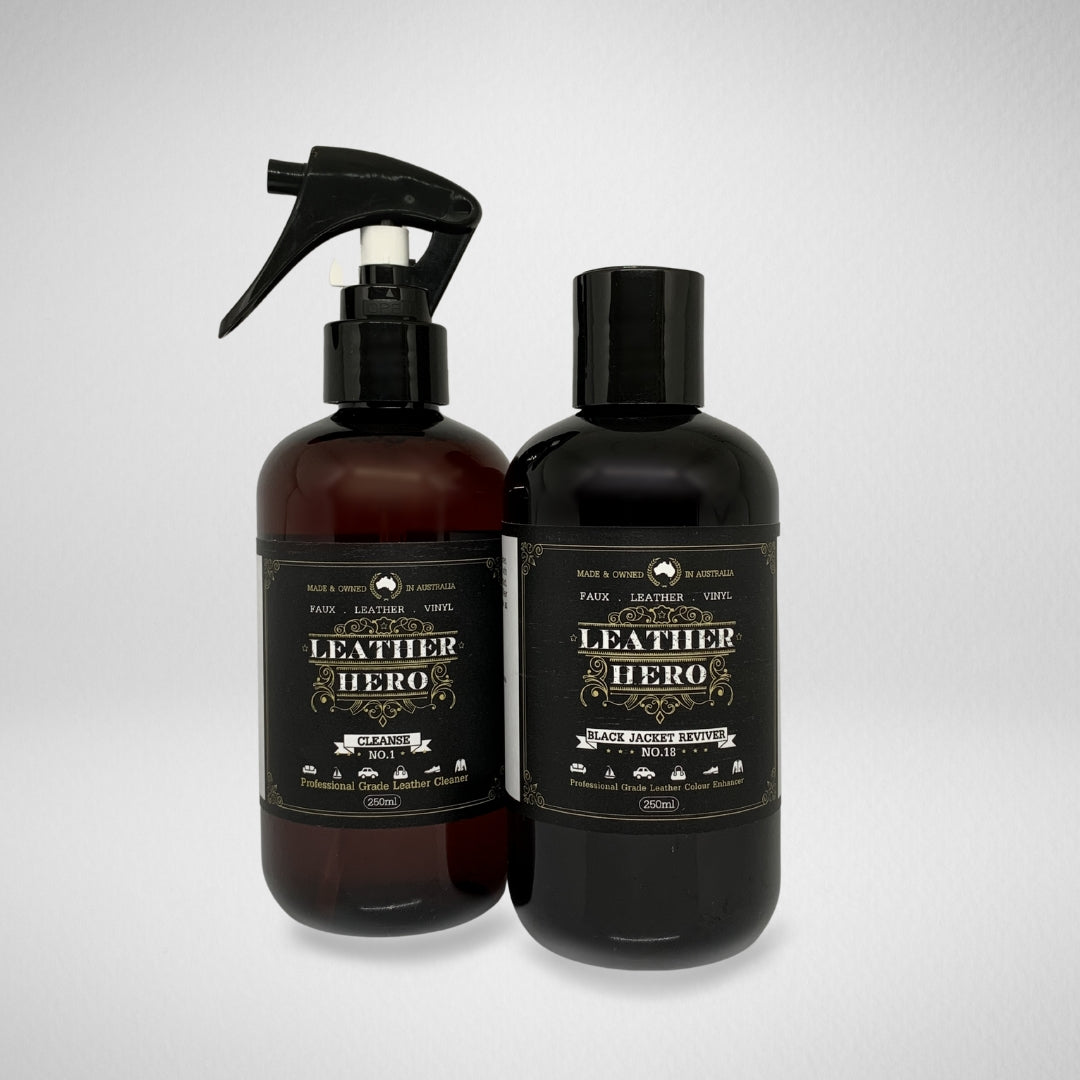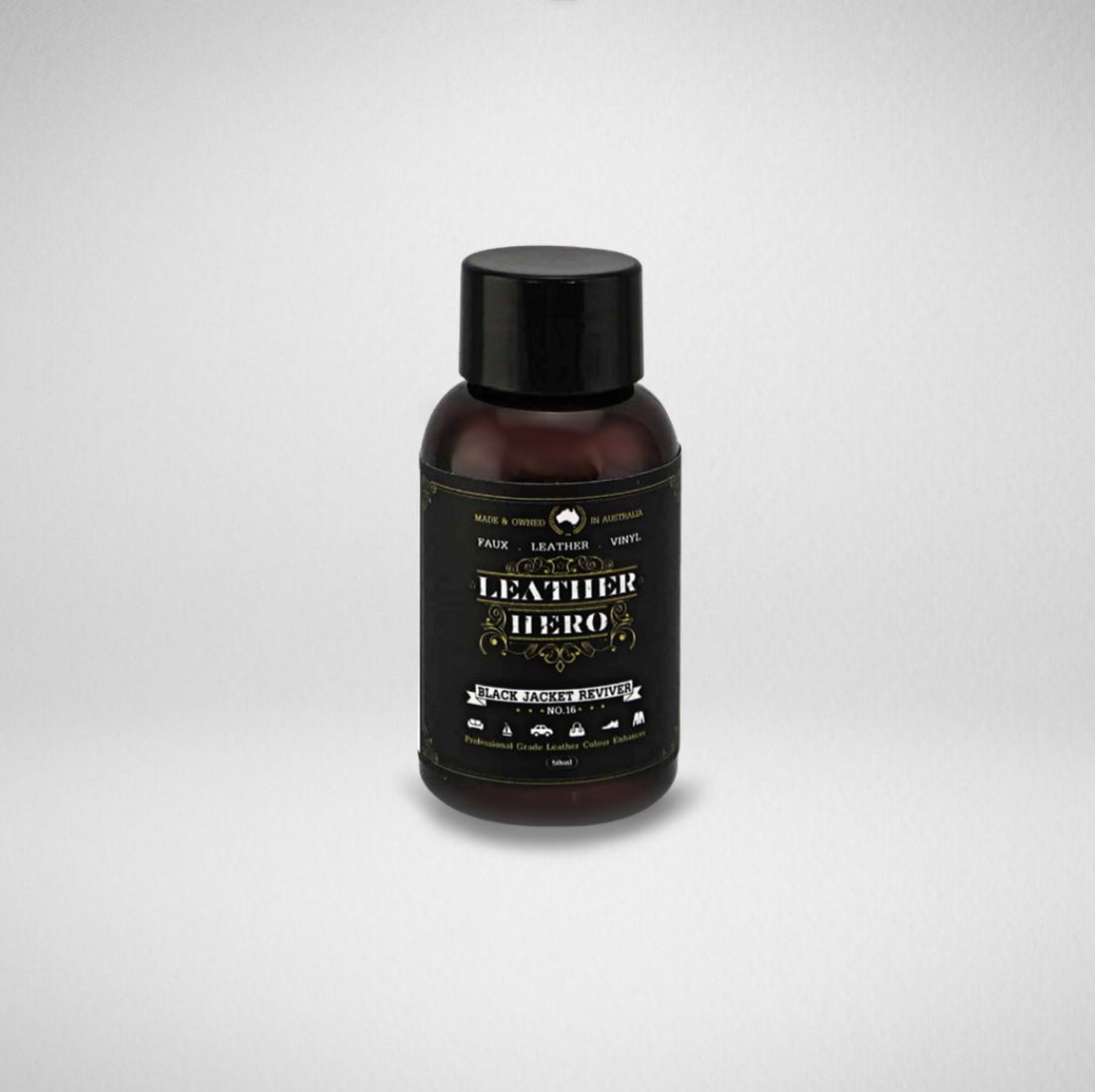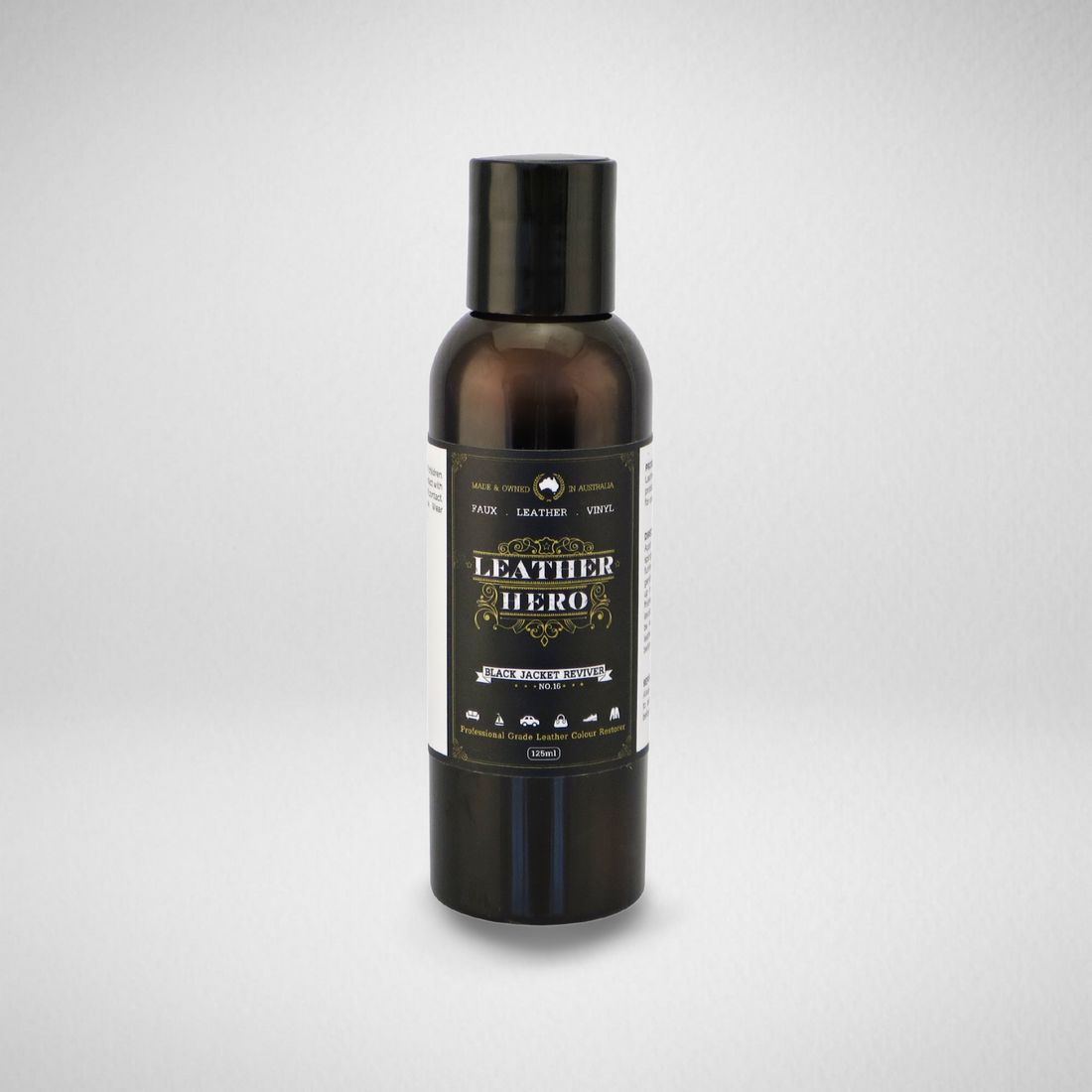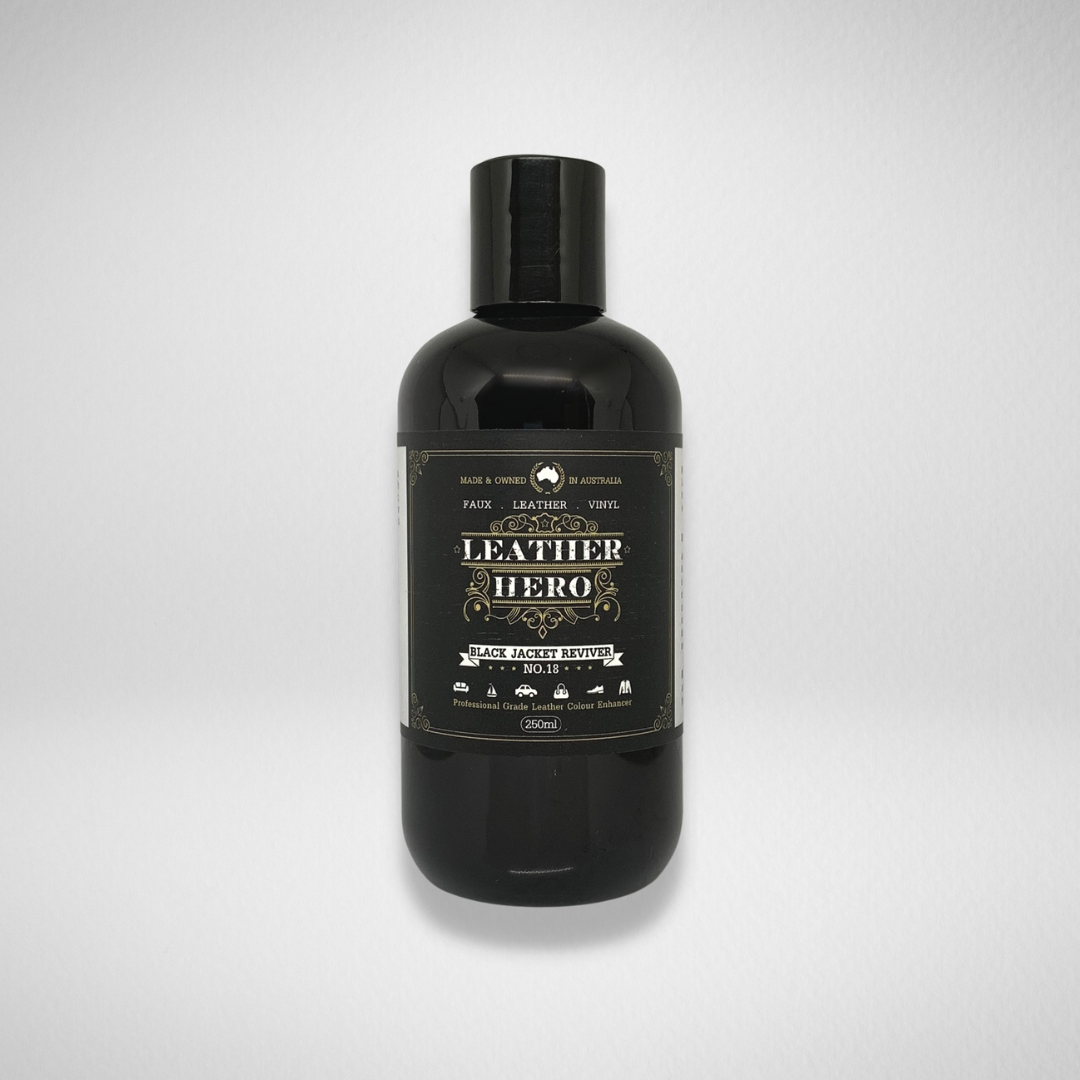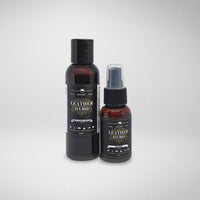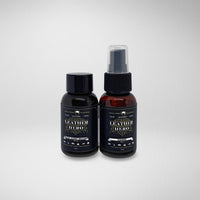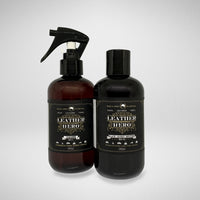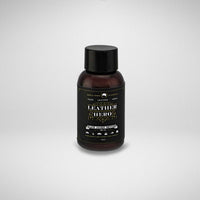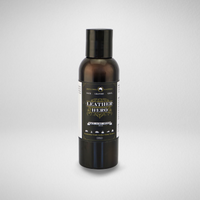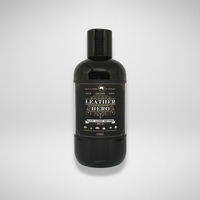 Black Jacket Reviver (No.18)
Black is back! Recoat your black leather jacket, apparel or handbag. This leather cleaner and all-in-one wipe-on leather colourant restores rich black colour to tired, worn and faded black leather.
An intensely black coating for black leather
Gives leather a black colour boost
Disguises cosmetic blemishes such as colour wear, scuffs and scratches
Balances UV fading
Cleanse (No.1) removes soiling before colouring
Seals and protects
Satin finish. Can be dulled with Dulling Agent (No.30) or shinier with Topcoat (No.7) Gloss or High Gloss (sold separately) 
Water-based, fast drying, and Australian made 

Easy to use; apply by sponge to prepped leather
Wear resistant
Revamp your black leather
Give your favourite black leather jacket a seriously good make-over with this professional grade, self-levelling, non-transferring, quick-drying colourant. It's ideal for recoating black leather jackets and other small projects. Imparting an intense colour boost it diminishes the appearance of surface wear and blemishes.
A finish that looks like it belongs
Clean thoroughly first. A soft brush can be used to remove any surface soiling, waxes, silicones and oils that might prohibit optimal coatings adhesion. Then, apply 1 or more coats of Black Jacket Reviver (No.18) per the needs of your job. Coverage builds with each additional coat. This clever formulation renders a showroom finish that doesn't look thick, chunky or amateur. 
This product is suitable for use on pigmented (painted/coated) and some semi-aniline and synthetic leathers.



50ml/Starter Kit: 1 small leather jacket, a handbag, or lots of small touch-ups
125ml/Essentials Kit: 1 medium leather jacket or 2-3 handbags
250ml/Like A Pro Kit: Lots of black leather treatments
1) Clean the leather using Cleanse (No.1) for aniline leathers or Spot & Prep (No.4) for pigmented leathers. Spray the cleaner over one area at a time, gently agititate into the grain using a soft scrubbing brush then wipe with a microfibre cloth. Repeat until all areas are thoroughly cleaned of soiling, waxes, silicones, oils and emollients.
2) If needed, fine grit sandpaper (800) can be used to smooth any areas that feel rough to touch.
3) Do a test spot of Black Jacket Reviver in an inconspicuous area, eg; the lower inside facing. to ensure compatibility with your leather and objectives.
4 Pour some Black Jacket Reviver onto a sponge and wipe over one area at a time. Initially, gently press the colourant into the leather grain/surface then finish with a light, smooth stroke. Allow drying (normally 30 mins to 1 hour). You can force dry using a hair dryer for speedier drying time.
5) Apply additional coats as needed with drying between each coat. Coverage builds with each layer.
6) Allow 48 hours drying before using your leather.
7) After a few days, Nourish (No.2) can be applied to condition your leather. Wearing/using your leather also helps to restore suppleness.
8) Black Jacket Reviver can be reapplied after thorough surface prep/cleaning as needed.
Black Jacket Reviver
50ml
125ml
250ml
Black Jacket Reviver Kit - Starter
50ml Cleanse (No.1)
50ml Black Jacket Reviver (No.18)
Black Jacket Reviver Kit - Essentials
50ml Cleanse (No.1)
125ml Black Jacket Reviver (No.18)
Black Jacket Reviver Kit - Like A Pro
250ml Cleanse (No.1)
250ml Black Jacket Reviver (No.18)
Ideal for: Black leather apparel and accessories with UV fading, colour wear and scuffs.
Finish: Bright satin. Can be made flatter (more dull) using Dulling Agent (No.3).
Use with: It's important to apply this product to a clean surface. After cleaning with Cleanse (No.1) appy Black Jacket Reviver (No.18). Once cured, Nourish (No.2) and Protect (No.3) can be applied.
Application schedule: Reapply as needed.
Application method: Pour onto a sponge then wipe evenly over the surface.
Best accessories: A soft bristle scrubbing brush, a white microfibre cloth and a sponge.
Instructions: On the labels, Directions for Use and under the How To tab.
Drying time: 30 minutes - 1 hour.
Time before use: wait 48 hours
Available separately: Yes
Tips:
Protect your work area and wear gloves
Work quickly
Avoid disturbing the coating whilst drying
Apply second coat in the opposite direction to ensure no areas are missed
Coverage builds with each coat applied. Apply more where needed
Test before use: Always test products in an inconspicuous area first. There are many makers of leather and leather coatings and whilst most are to standard, there may be some that are not.
Storage: Lid on tight and away from direct UV light and heat (in a cool dark cupboard). Avoid contaminating the contents with baterial sources including skin.
Tips:
Sydney said
I absolutely LOVED my purchase of the Black Jacket reviver. Used it to restore a vintage jacket that had quite a bit of wear on the elbows. It fixed it like magic and was so easy to use! So happy with my purchase.
John said
"Leather Hero product saved my $2000 Hugo Boss leather jacket which went awfully close to being chucked out. The renovation kit was so easy to use and I now have a 'brand new' jacket... thank you so much!"
Black is back
When your favourite black leather jacket looks a little faded, scuffed or dull, it's Black Jacket Reviver (No.18) to the rescue.
Re-black your black leather with this all-in-one black leather colourant. Once cured, it won't rub off onto clothing.
It's the perfect remedy for maintaining your black jacket's killer good looks season after season.
Quick, easy, effective
Simply wipe over clean leather and allow drying. It coats leather with a refined, intensely black finish that covers fading, colour wear, scuffs and marks. Rendering a showroom finish, restoring your black leather apparel and accessories couldn't be easier.
This innovative product stands in a class of its own.
bec said
"Just got my delivery of black leather restorer and wasted no time in restoring my faded leather jacket. it looks brand new, highly recommend this product"
jen said
"I treated my faded black motorbike leather gear with your #18 - amazing outcome; can't believe it."
Great product
My black jacket looks great. Only applied it last night and haven't work it yet, but it looks really good.
My only criticism is the excessive packaging. The bottle was posted in a box that was way too big, surrounded by packaging beads that don't look recyclable. If this could be addressed that would be great.
Excelent!!!
The item was perfect for reviving my old Jacket. It looks new again.Thank you very much.
Miraculous
This is a great product. Totally revived my very expensive but slightly fading black leather jacket!
Black Jacket Reviver
It's good product for my old leather jacket. Thank you