How to clean and condition aniline leather
Aniline leathers are often considered the finest of all leathers. They are 'naked' which means that they don't have significant layers of colour or a protective topcoat on the surface. They are coloured throughout with aniline dyes. Furniture grade aniline leathers are usually soft, supple, warm to touch and look naturally beautiful. Often full-grain, they can display natural markings including pores, wrinkles and even, minor scars. With minimal or no protective coatings, they are also vulnerable to stains. Accidents can happen and normal use over time takes its toll. But with the right strategies, this leather can age very gracefully and with character.
2 or 3 steps
1) Clean: Pour generously onto a cloth then wipe vigorously or spray onto the leather then scrub with a brush. Repeat as needed
2) Condition: Pour conditioner onto a just damp cloth then wipe over all areas
3) Protect: After testing for compatibility, pour protector onto a damp cloth and wipe over all areas
Regular cleaning beats extreme cleaning
Aniline leathers will thank you for regular care and maintenance. When cleaning is regular, it's quick and easy to do. Include a fortnightly damp cloth wipe over then, every 3 months or so, use the right products to give your furnishings a thorough service. For bags and apparel, be sure to clean and conditionat the ends of the season, allow thorough drying then store in a dry cupboard.
Natural leather
Why clean? Soiling, body oil, perspiration, and spills damage and stain aniline leather. Without cleaning, oils create dark greasy stains and if there are surface coatings, they may delaminate, causing a rough, dry patchy appearance. pH damage causes the breakdown of the protein bonds that hold the fibres together leading to tears. Regular cleaning helps to preserve the health, hygiene, strength and beauty of your investment.
Why condition? Conditioning is all about maintaining suppleness and helping to prevent dryness which leads to cracking. The primary work of Leather Hero's Nubuck, Suede & Aniline Nourish (No.11) is done inside the structure of the leather where it lubricates and softens the fibres. Regular conditioning can progressively build a degree of stain resistence, especially when combined with leather protection.
Why protect? Protecting unfinished leathers can minimise fading, repel soiling, minimise the chance of stains forming, and make cleaning easier.
Method
Test
1) Apply a test spot of each product in an inconspicuous place to assess compatibility with your leather. Allow drying time (from 1 hour to overnight). If there are unwanted changes, such as permanent darkening or coatings disturbance, do not proceed.
Clean
1) Vacuum any dust and particles
2) Pour the cleaner onto a lightly dampened microfibre cloth or spray it directly onto the leather one section at a time. It absorbs quickly, so…working quickly and gently, agitate the cleaner into the grain using a scrubbing brush. Do not rub as it can remove coatings and dyes and cause indentations and loss of grain.
When spills happen, act immediately. If you can remove the liquid before it penetrates or dries, the chance of staining is minimised. Fold a cloth into a pad. Pour on some cleaner. Using the palm of your hand, press and hold the cloth to the spill for a couple of seconds. Repeat using a fresh part of the cloth to wick as much liquid as possible from the leather.
3) Wipe clean with a microfibre cloth
4) Repeat if needed
Condition
2) Pour conditioner to a lightly dampened microfibre cloth and squeeze to incorporate
2) Wipe over the surface evenly and repeat until all areas have been treated
Protect
1) Pour onto a lightly dampened cloth or spray over one section at a time
2) Working quickly, wipe over the surface evenly and repeat until all areas have been treated.
More about cleaning aniline leathers
On unfinished leathers (meaning uncoated), spills and marks quickly become permanent stains. When cleaning, you won't see these marks magically disappear. However, with regular cleaning, they tend to soften in appearance, blending in a more aesthetically pleasing way over time.
Typically, there is not much soiling or residue on the cleaning cloth. You may feel that nothing is happening, but rest assured, this process helps to remove some of the soiling you can see and soiling you can't see (body oil and perspiration), thereby maintaining the health of your leather.
Want to know more about our other leather cleaners? Here is our guide to choosing a leather cleaner.
More about conditioning aniline leathers
If your lounge is older and dry, you may choose to use a richer conditioner. Nourish (No.2) is often suitable for use on these leathers. Waxy Nourish (No.9) is a more substancial conditioner that leaves a noticeable waxy coating which can be buffed to a luxurious shine. The look has a pleasing vintage appeal.
Want to know more about leather conditioners? Here is our guide to nourishing leather.
More about protecting aniline leathers
Aniline leathers are prone to UV fading. Protect (No.3) contains a UV barrier that helps to slow the effects of UV exposure; fading and drying. It also provides an anti-soiling barrier that helps to keep leather cleaner for longer and makes cleaning easier. It is compatible with the majority of anilines but testing is recommended in case your unique leather is one of the very few that darken when treated.
Want to know more protecting leather? Here is our guide to leather protection options.
Featured product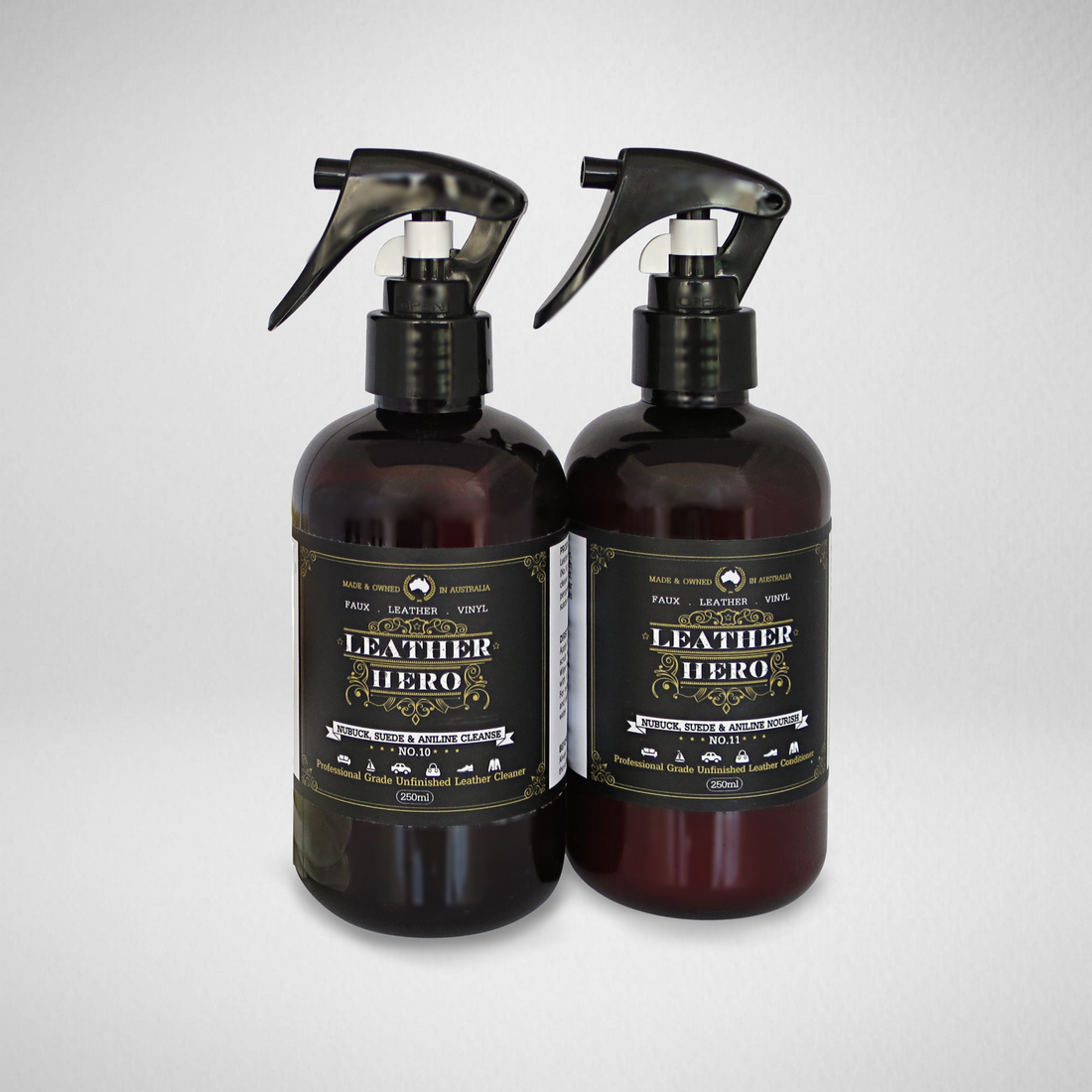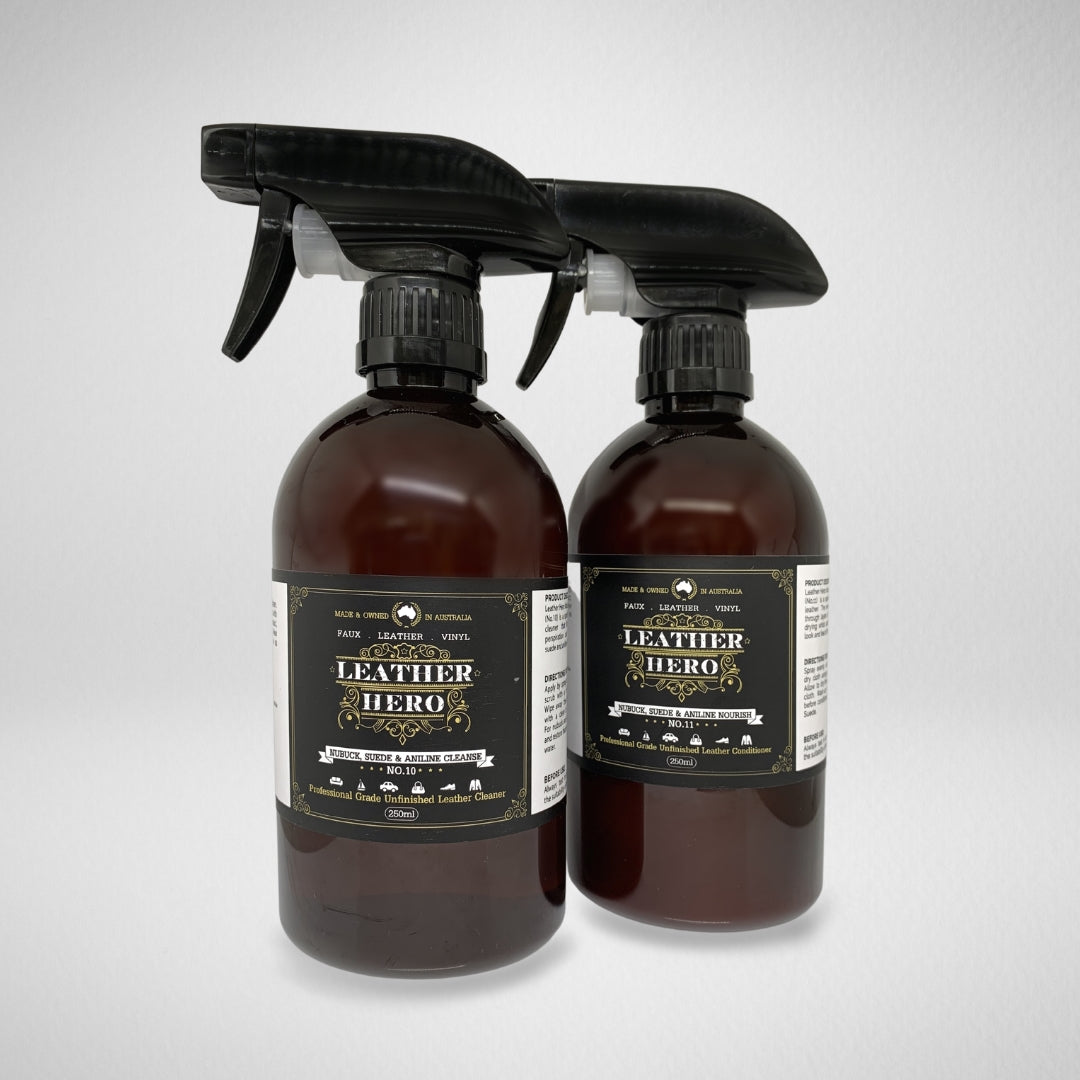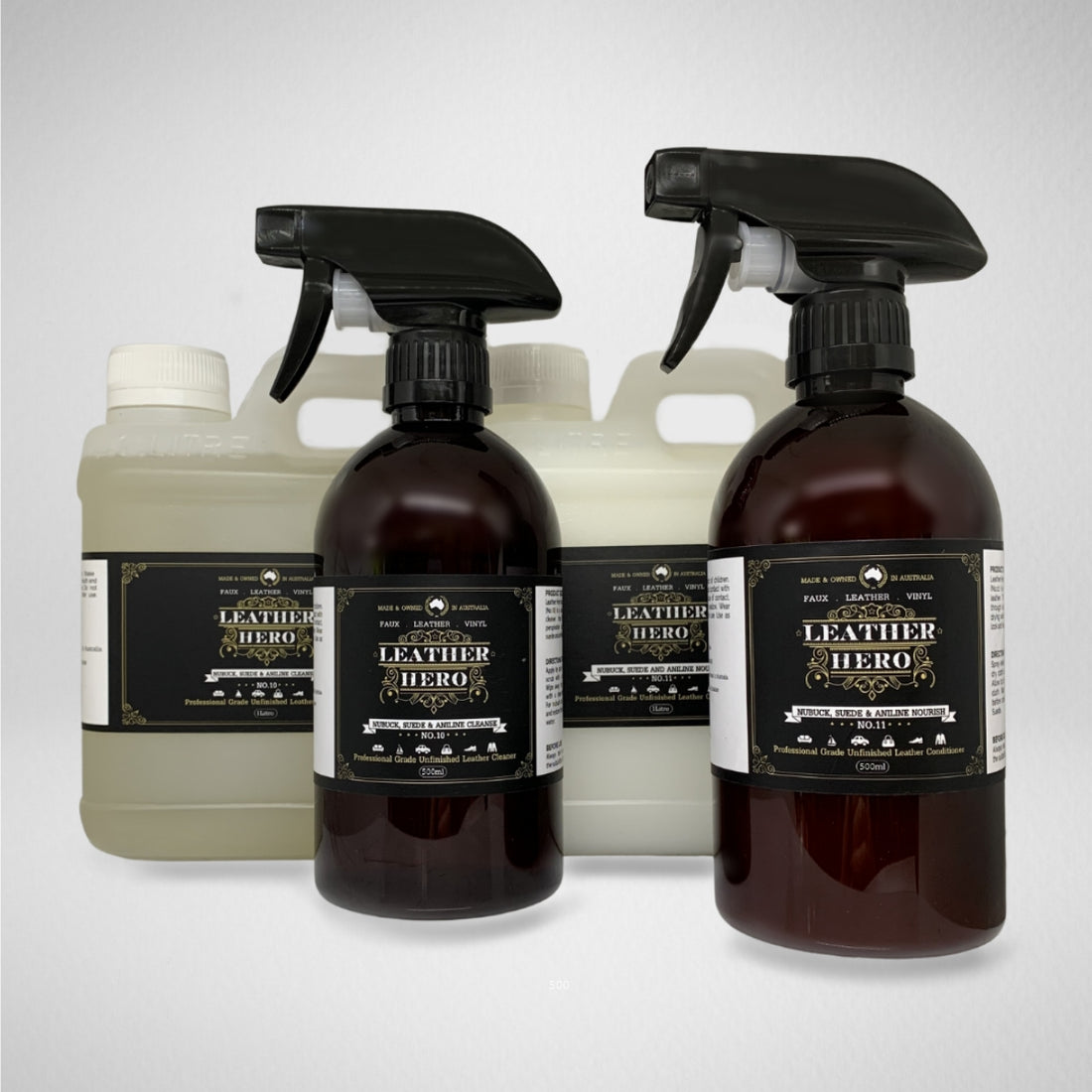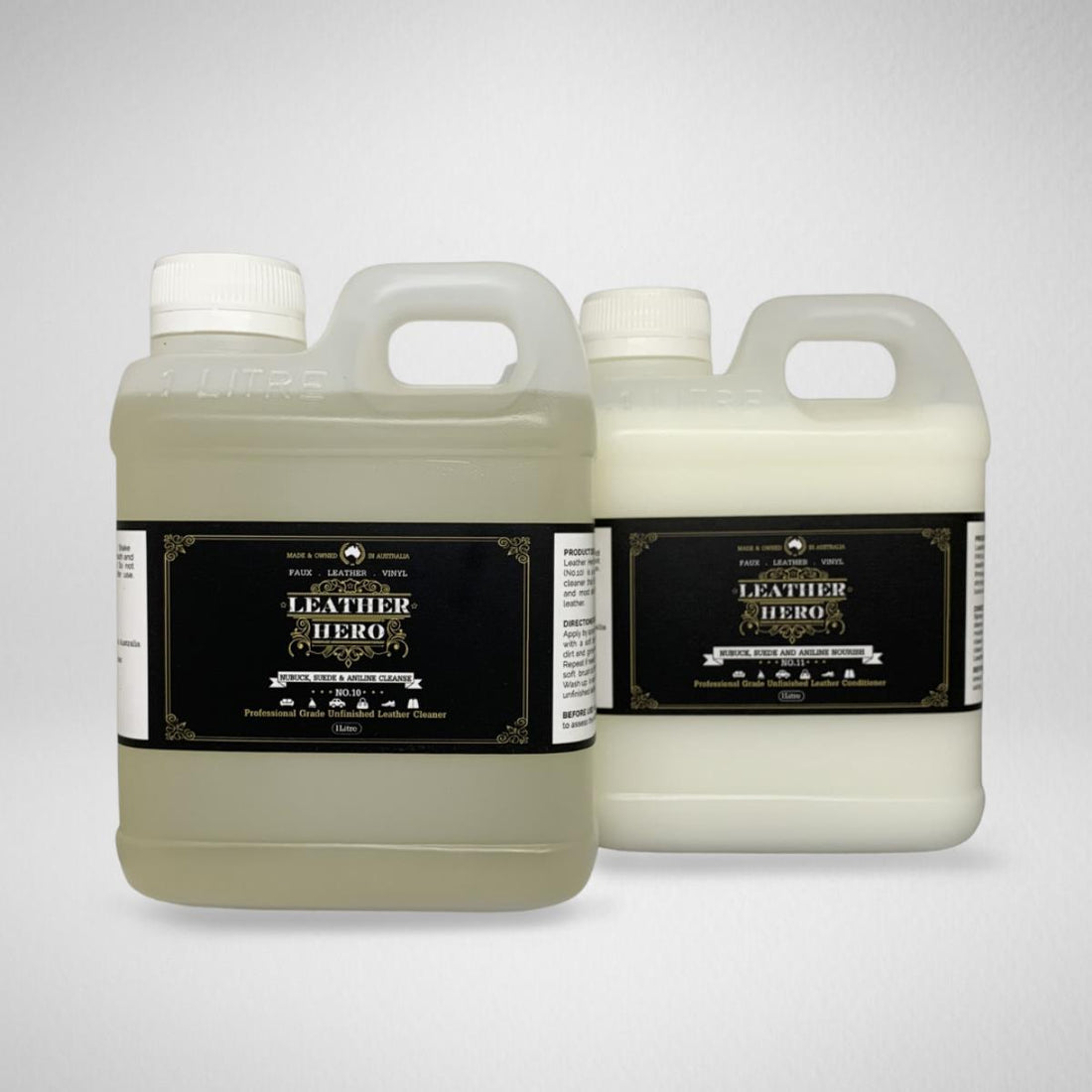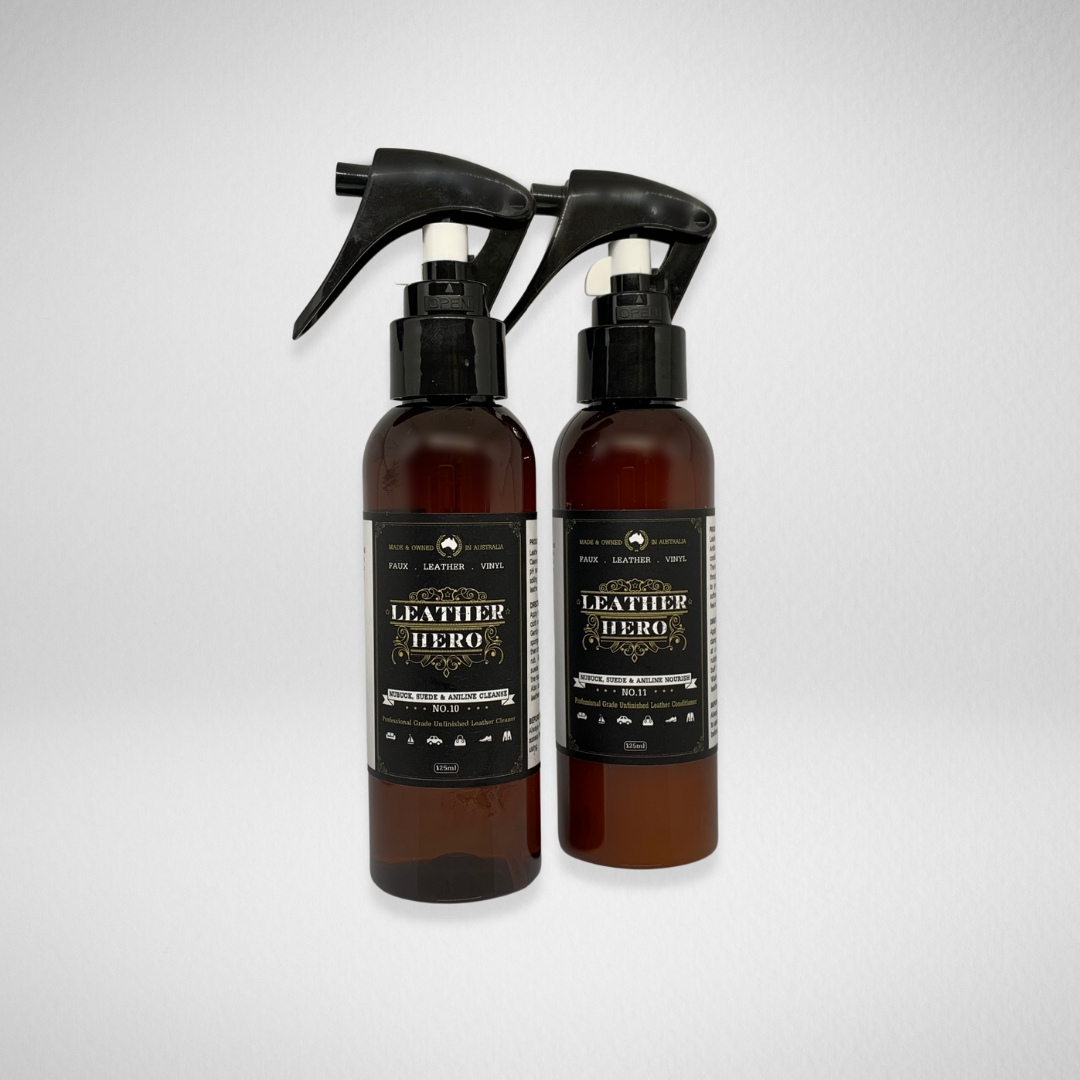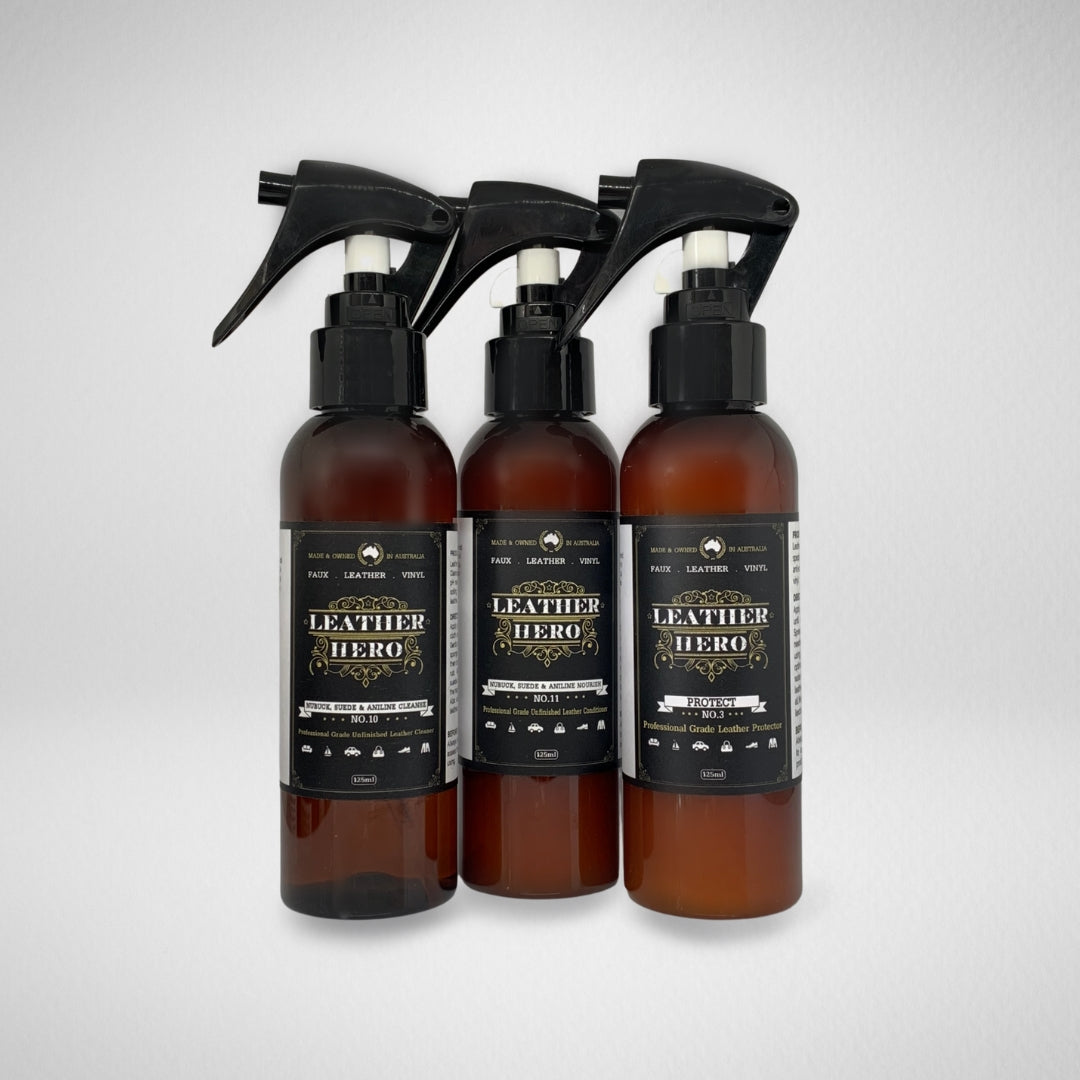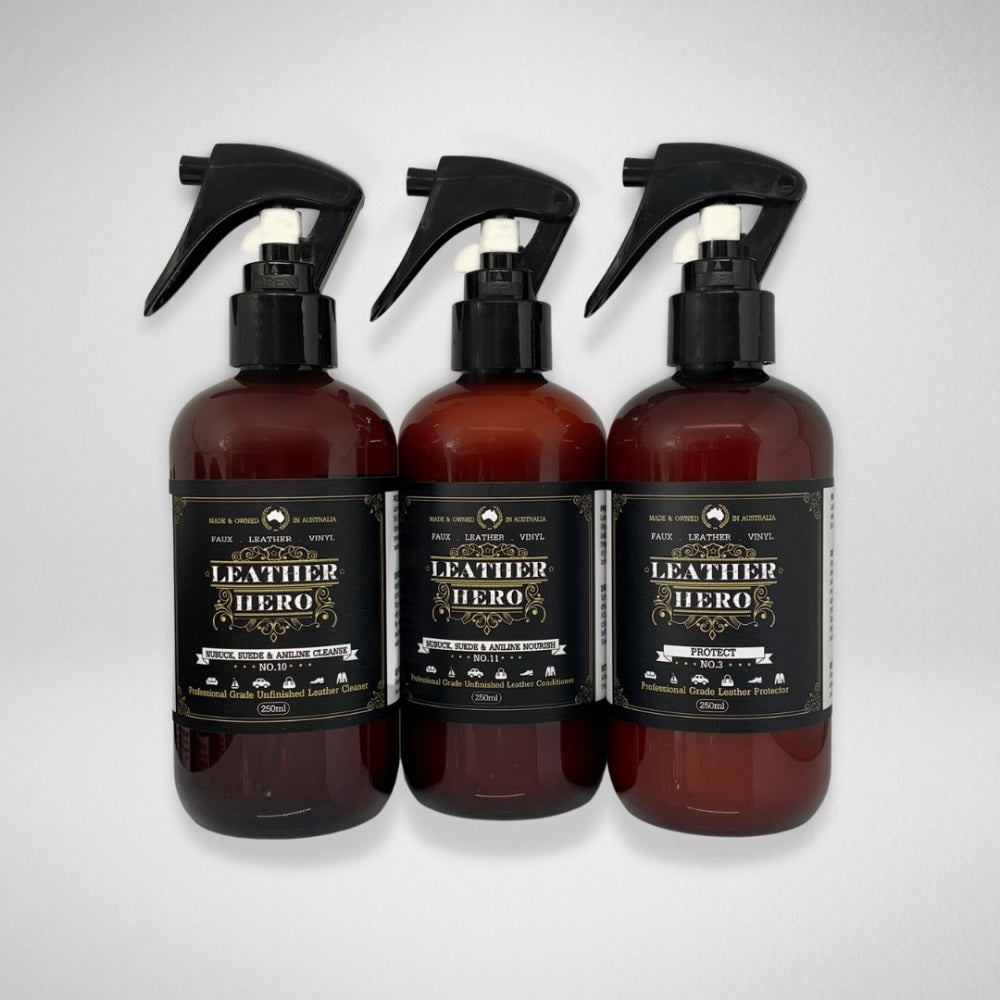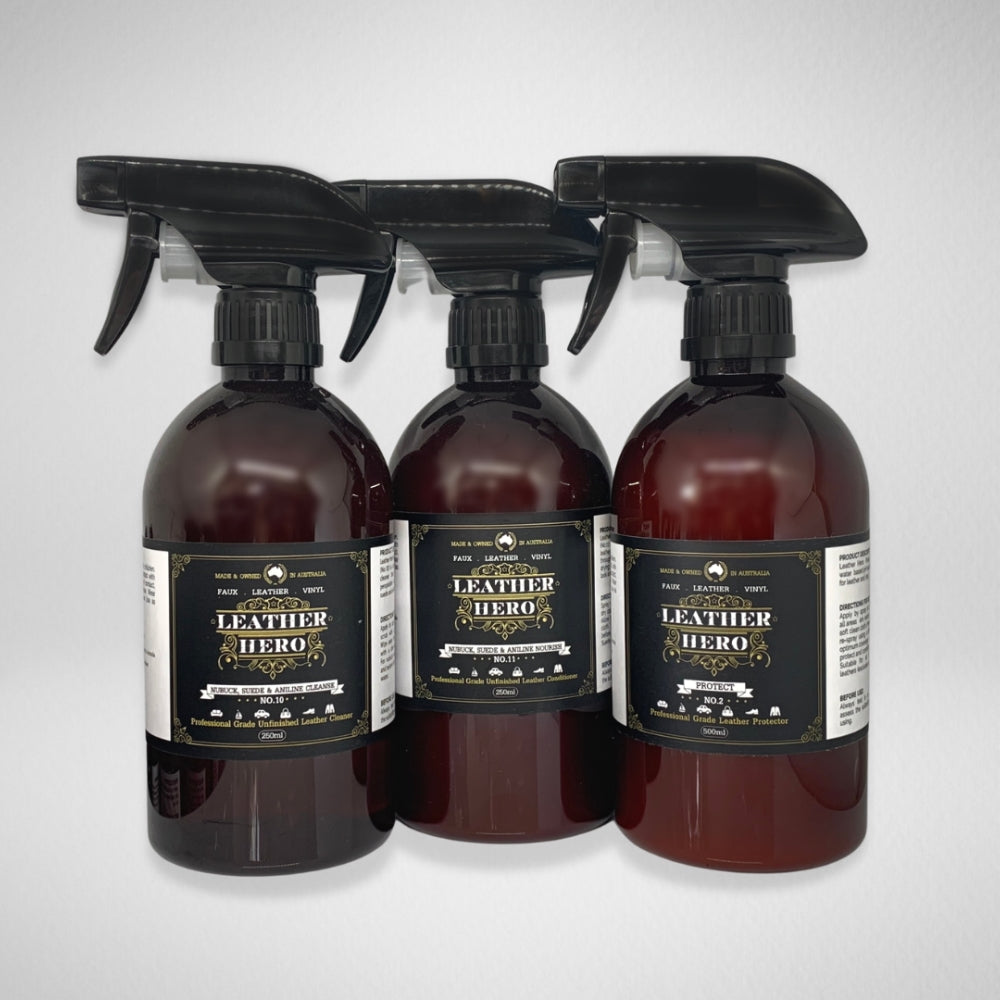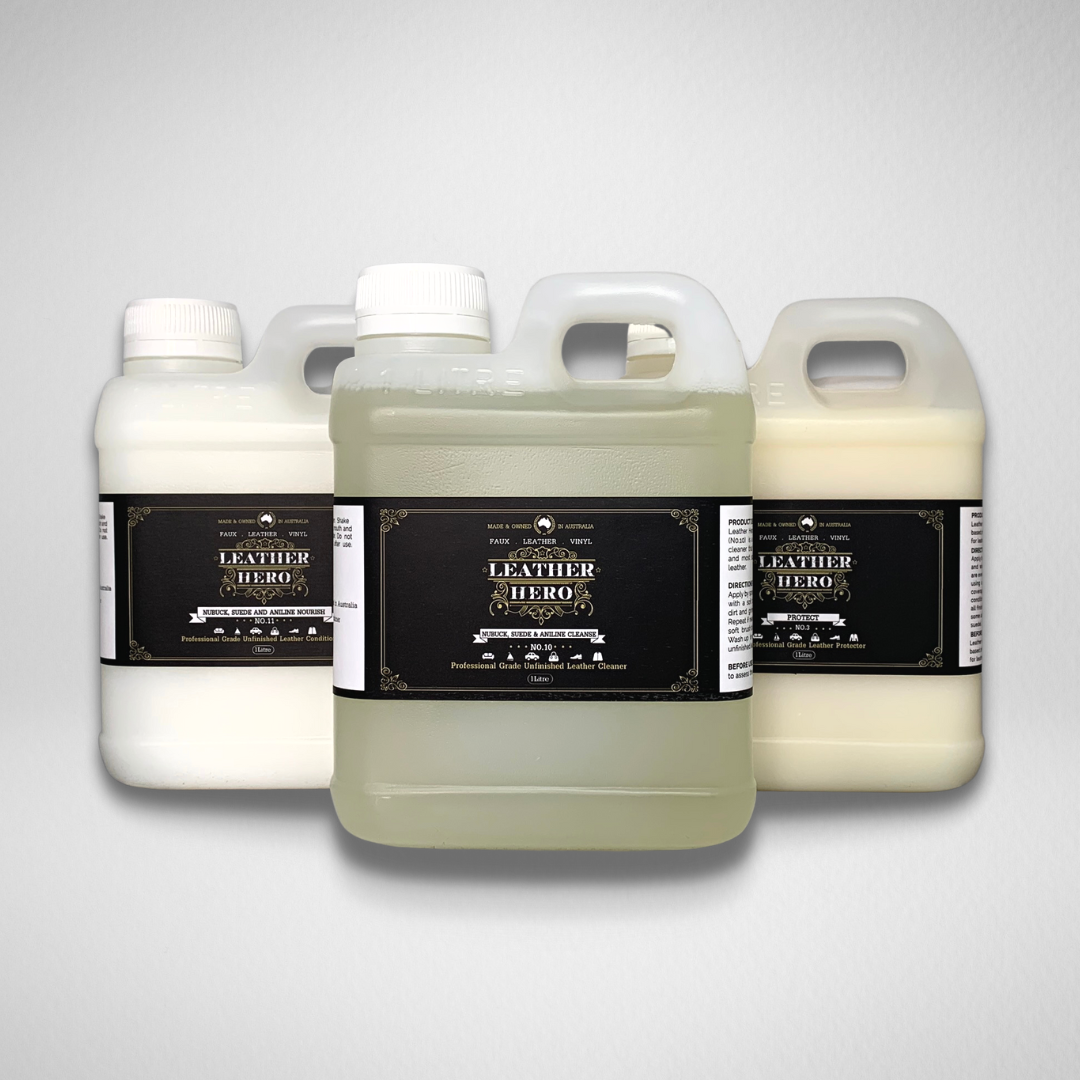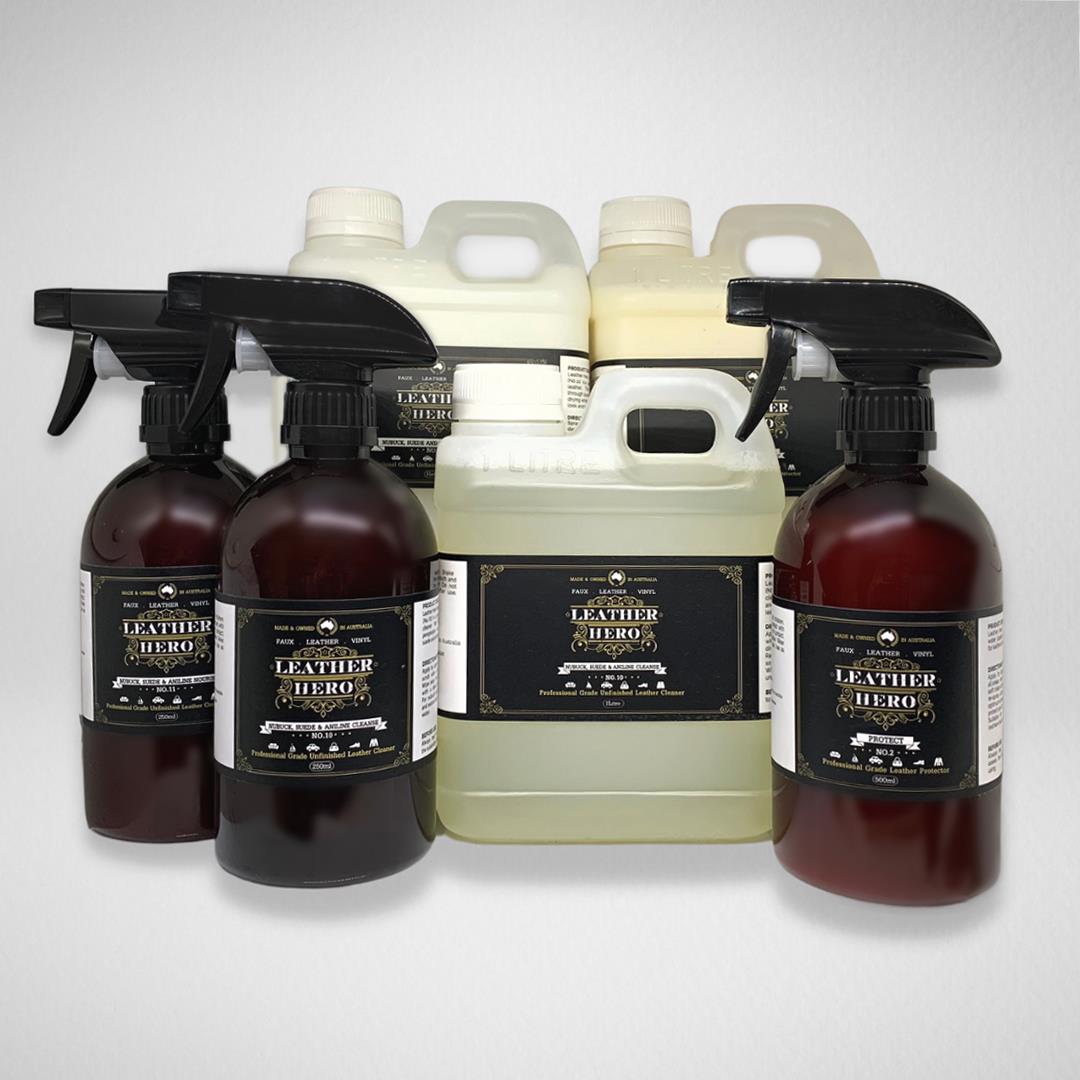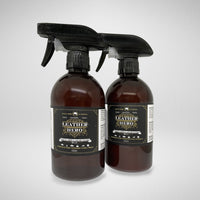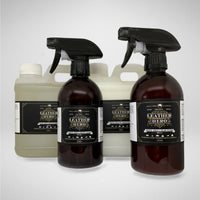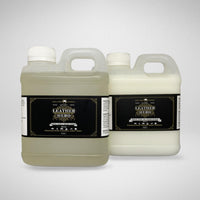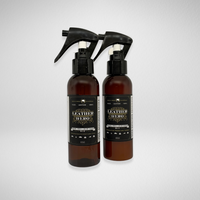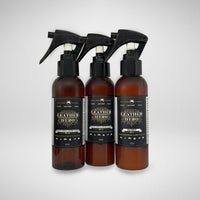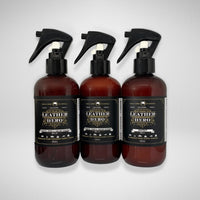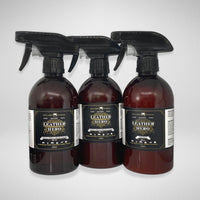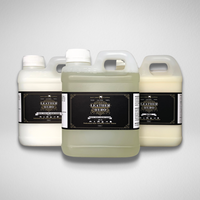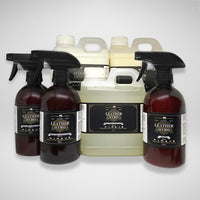 Nubuck, Suede & Aniline Care & Protection Kit
Nubuck, Suede & Aniline Care & Protection Kit
This kit includes a specially formulated cleaner and conditioner that work gently to preserve the unique features of unfinished leathers without causing drying or unwanted changes to the appearance of the leather. Using the wrong products can result in permanent darkening, a greasy look, or unwanted shine. 

Formulated for unfinished/unprotected leathers and can be used on all other types
Contains a m

aintenance strength 

cleaner and conditioner. Use every 3 months or as needed
Cleans surface soiling and nourishes to maintain suppleness
Ideal for immediate cleaning of fresh spills (never rub)

Fast drying, pleasant smelling, non-sudsing, and easy to use
Non-greasy and leaves no to minimal shine or darkening
Anti-bacterial
Can soften the appearance of some scratches and marks with consistent use
Save $$$ when you DIY with the products the professionals use
Silicone free
Nubuck, Suede & Aniline Cleanse (No.10): gently removes damaging and unhygienic dirt, grime, body oil and perspiration from the surface. The perfect cleaner to have on hand when spills happen.
Nubuck, Suede & Aniline Nourish (No.11): a conditioning lotion that penetrates to help prevent drying, cracking, and help maintain suppleness. Formulated to minimise extra shine and avoid darkening. 
Anti-bacterial 
Contains a powerful antibacterial that is proven to kill:
Escherichia coli (E coli)
Proteus vulgaris
Pseudomonas aeruginosa
Staphylococcus aureus (MRSA or Golden Staph)
Light and regular care is best
Apply by spray or pour onto a just damp white microfibre cloth then wipe over the surface. A soft bristle may help to agitate dirt from the grain when cleaning and lift the nap after nourishing. With regular use, this dynamic duo can help your leather age gracefully.
Aniline leathers and stains
Aniline leathers are widely considered the most beautiful. At the same time, they are inherently vulnerable to permanent marks and stains Over time, these marks can form a patina. With regular care your leather builds light stain resistance and existing marks can appear more subtle.
Brush to lift the nap
Nubucks and suedes can be brushed to refresh and lift the nap after treatment. 
Consider adding Protect (No.3) to your care regime
Also check out Protect (No.3) (optional add-on). It is an anti-soiling UV barrier that can be compatible with nubuck, suede and aniline leathers. It must be tested in an inconspicuous place before use to ensure compatibility with your unique leather.
This content type will accept rich text to help with adding styles and links to additional pages or content. Use this to add supplementary information to help your buyers.
You can use product metafields to assign content to this tab that is unique to an individual product. Use tabs to highlight unique features, sizing information, or other sales information.